Palma de Mallorca, March 2022. This year local and international hotel groups continue to invest in the island's tourism sector with the opening of four new five-star hotels and one four-star hotel in 2022. Mallorca's hoteliers are bullish about the coming season as pre-reservations underline the demand for the destination that is only 2-2.5 hours flying time from most European cities.
Despite the pandemic, last year, a total of four, five-star hotels and one luxury agroturismo opened on the island; Can Ferrereta in Santanyí, Concepción by Nobis, Nivia Born Hotel, and the Palma Riad Hotel all opened in Palma's old town, and Finca Can Beneït reopened in Binibona in the centre of the island.
The sustained investment in the premium four and five-star market hotel segment also demonstrates Mallorca's long-term strategy to offer quality tourism with the focus on gastronomy, sports/activities and to extend the traditional sea and sand season to year-round tourism.
NEW HOTEL OPENINGS IN 2022
The Pure Salt Port de Sóller Hotel is scheduled to open in April 2022
The Pure Salt group already operate two 5-star hotels on the island at Port Adriano and the Pure Salt Garonda Hotel in Playa de Palma. The Pure Salt Port Sóller Hotel is the 3rd hotel for the group, located right on the beach at Playa d'en Repic in Sóller with views across the Bay of Sóller. They have taken over an old hotel and given it a complete refurbishment. It will feature 90 rooms, a spa, pool, restaurant, and will be an adult only hotel (14 years and upwards). Opening rates in April start at 150€ per double room per night to include breakfast: https://www.puresaltluxuryhotels.com/en

El Vicenç de la Mar 5*, Cala Sant Vicenç (scheduled opening late spring 2022) 
Further to the opening in 2019 of the stylish El Llorenç Parc de la Mar 5* in Palma, the owners will open their second hotel on the island in spring 2022 in the seaside location of Cala Sant Vicenç on the north coast of Mallorca. The hotel concept is to replicate 5-star boutique hotel service and quality in a beach setting offering guests the option to enjoy a city and beach location with a variety of sports activities. The El Vicenç de la Mar 5* will feature 35 rooms. Some of which will have their own private terraces; three will have a private Jacuzzi, two suites with their own private swimming pools. Five of the rooms will have direct access from their terrace to a shared pool. Main features will include a spectacular rooftop terrace with a swimming pool, bar and bistro where guests can enjoy the views across Cala Sant Vicenç and the Sierra de Tramuntana mountains. Gastronomy in the hotel will be under the direction of local Chef, Santi Taura, who picked up his first Michelin Star for the DINS restaurant in the El Llorenç Par de la Mar hotel in Palma in 2020.
The hotel will feature a rooftop Dins El Vicenç restaurant with spectacular views and the Mediterranean bistro restaurant on the ground floor, a spa and gym with full facilities; a home cinema; a library; two meeting rooms (with a combined capacity for up to approximately 60 people); a bicycle storage room and parking for up to 18 cars. The hotel is open to children. However, cots are available subject to availability and children younger than 12 years must sleep with an adult. The opening rate starts at 400€ per night, per double room, to include breakfast. https://www.elvicenc.com/en/

Kimpton Aysla Mallorca, Santa Ponsa (scheduled opening spring/summer 2022)   
Located on the site of the former Santa Ponsa Country Club, the new Kimpton Aylsa Mallorca in Mallorca's southwest region, has been completely reconstructed to offer a new 79-room hotel by Kimpton Hotels & Restaurants owned by the Intercontinental Hotels Group. The hotel is located within the prestigious Santa Ponsa golf area that houses three championship golf courses, and the Mallorca Country Club tennis complex that hosts premium events including the WTA Mallorca Championships in June.
The new Kimpton Aylsa Mallorca hotel will open as a wellness resort offering modern luxury lifestyle in a relaxed modern setting with state-of-the-art wellness and spa area that features four swimming pools, including a spa pool, the Saba Restaurant, bar, and bodega and the Zayth pool restaurant, terrace, and garden deli. The hotel is scheduled to open late spring/early summer. Reservations: reservations@kimptonayslamallorca.com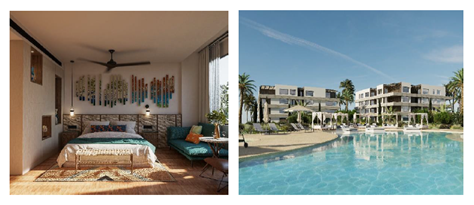 Hilton Mallorca Galatzó (scheduled opening summer 2022)
The Hilton Mallorca Galatzó is the latest resort hotel to join Hilton's growing network of properties in Spain, where the company opened three hotels last year alone. Located in more than 54,000 square-meters of established sub-tropical gardens in Costa de la Calma on the southwest coast near Andratx, the hotel will feature 208 rooms and suites, three swimming pools (one covered). The hotel will feature 2 pool bars and terraces and guests will be able to enjoy a variety of cuisine from two restaurants. With the focus on wellness and relaxation, the hotel will offer a 1,500-square-metre spa and wellness centre, complete with six treatment rooms and a variety of packages with a sauna, jacuzzi, and sensation showers. In addition to a gym/fitness centre and multiple tennis courts. The hotel will also offer conference/event facilities for up to 390 people with a total of nine meeting rooms: https://www.galatzohotel.com/en/

The Petit Hotel Monti-Sión, Palma Old Town, (scheduled opening summer 2022)
This new four-star hotel will open in the Sa Gerreria area on the outskirts of Old Town Palma and will feature 16 rooms. The restoration project that began in 2017 is finally coming to fruition when it opens in summer this year. The interiors have been designed by local designer, Raquel Gómez, who has created a concept for the hotel based on a warm and relaxed atmosphere. The hotel will make an ideal base to explore the city and beyond and guests will be able to hire bikes from the hotel.
Newcomers – hotels that opened in 2021
Palma Riad Hotel, Palma Old Town (adults only)
Tucked away on the historic street of Carrer Sant Jaume, the Palma Riad Hotel is a complete refurbishment of a historic building dating back to 1723 that brings a touch of Morocco to the city. The five-star, adult-only hotel, features 11 individual suites designed around a central courtyard with a swimming pool and sunbathing area, and the Morokko Bar & Restaurant.
The design concept of the hotel is focused on the warm rich colours of traditional Riads and plays on the light and shade of the building with exotic planting and the sound of running water from the central fountains in the main courtyard. Each suite is individually and lavishly decorated incorporating, where possible, many of the building's original features including the fireplaces and hydraulic tiles. The thick, textured wallpaper and expansive bathrooms that feature a Moroccan-style Hamman with a double shower and large bathtub, complete the mood. The lead-in price for a suite is 350€ per night to include breakfast: https://palmariad.com/the-riad/

Can Ferrereta, Santanyi
Further to its successful opening last spring, this award-winning hotel features 32 bedrooms in a stunning authentic townhouse setting with a pool, spa and two restaurants. The hotel also features a collection of contemporary art including works by renowned Mallorcan and Catalan artists. Can Ferrereta is open to adults and children over 14 years of age: www.hotelcanferrereta.com

Concepció by Nobis, Palma Old Town
This stylish boutique hotel is a stunning conversion of an old soap factory dating back to 1576, located on Carrer Concepció near Palma's main shopping street of Jaime III. Owned by the Scandinavian Nobis Hospitality Group the hotel features 31 rooms and suites, an inhouse restaurant and bar, rooms for meetings and events, an outdoor pool and gymnasium: www.concepciobynobis.com

Nivia Born Hotel, Palma
Located on Palma's elegant Borne Boulevard, this 24-room boutique hotel is on the site of the former Iberia Airways building. One of the main features of the hotel is its magnificent rooftop café/restaurant/bar on the 7th floor called "Fly me to the Moon" where guests can enjoy views across the city. The hotel offers 24-hour room service and valet parking. Room rates start at 235€ per night for a double room to include breakfast. www.niviabornboutiquehotel.com

Finca Can Beneït, Binibona in the centre of the island
This charming rural hotel estate is located on almost 70 hectares of land in the heart of the Sierra Tramuntana and offers 10 rooms, with traditional rural character and charm, the Mirabona restaurant (open year-round), an ecological kitchen garden, swimming pool, sauna, and terraces. The lead-in rate is 285€ per room, per night to include breakfast: https://fincacanbeneit.com/

www.newsmallorca.com
Further press information/images: Dominique Carroll/Charlotte Miller/Toni Gómez,
Fomento del Turismo de Mallorca. Tel: + 34 971 725 396 (Mobile: + 34 669 49 77 22)
email: news@newsmallorca.com
Background: The Fomento del Turismo (known as the Mallorca Tourist Board) was founded in 1905 and is the longest established tourist board in Spain and possibly in the world. It was established with the objective of creating awareness of Mallorca as a destination and to study and implement how to promote the island to potential visitors. This institution, located in the centre of Palma, remains a private, independent and non-profit making entity that is supported by members from throughout the island's tourism sector.
www.fomentmallorca.org