A total of six new hotels are opening in Palma this year in response to consumer demand for this elegant Mediterranean city which has in recent years been recognised as a destination in its own right.  Located only 10 minutes' drive from Palma's International Airport (with direct flights to all main European cities year round), offering culture, shopping, nightlife, and gastronomy, the city makes the ideal short break getaway. When all are open there will be a total of 28 individual boutique hotels in Palma mostly of a four and five star deluxe standard.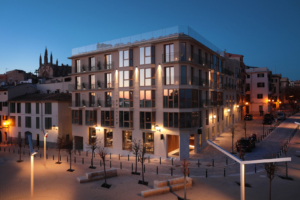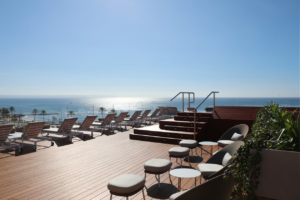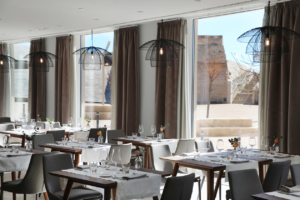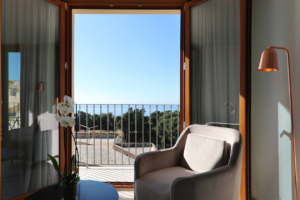 Views of the new Es Princep located in the Calatrava part of Palma's Old Town overlooking the sea.
Hotel Es Princep, Calatrava, Palma Old Town. NOW OPEN!
Opened this month, one of the largest boutique hotels to open in Palma's historic old town this year is the Hotel Es Princep located in the Calatrava area of the city beside the restored ancient city walls called the "Baluard del Princep" offering panoramic sea views over the Bay of Palma.  The location of the hotel ensures that many of the 68 guestrooms have sea views.
On the lower floor large, floor to ceiling windows provide plenty of light.  Two restaurants are located here; Mura as the main restaurant together with a more intimate space for fine dining called "Bala Roja" (red bullet) reminiscent of the cannons that protected the city from its historic walls and "Gremium" cocktail bar all of which are open to the public and hotel guests.  Gastronomy and service is at the very heart of this hotel and all food and beverage concepts will be overseen by local Michelin star chef, Andreu Genestra to provide his unique approach to updated Mediterranean cuisine in a stylish environment.
The hotel is distributed on 4 floors featuring the fully equipped Coco Spa with Jacuzzi, sauna, salt room, gym and an 18 metre heated pool in the basement. However, the crowning glory of the hotel is a spectacular vast rooftop terrace "Amaq" with pool where guests can enjoy drinks and snacks whilst taking in the panoramic views across the sea, Palma Cathedral and the ancient rooftops.
Es Princep, is owned by a Mallorcan family of hoteliers, who uphold the traditional principles of island hospitality offering top service, quality in all aspects of the hotel combined with an authentic experience of Mallorca's historic old city.  Room rates start at 240€ per double room to include breakfast and local tax:  www.esprincep.com
ICON Rosetó a "petit palace" in the old town. NOW OPEN!
Recently opened, the Icon Rosetó is the first "petit palace" hotel for the Madrid based hotel group in Mallorca.  Located close to the city's iconic Gran Hotel building down one of the many old cobbled streets the building was formerly a convent and lies adjacent to a historic church which is a replica of a small chapel in Barcelona.  The 34 rooms are distributed around a central patio with an impressive vertical garden for dining or drinks.  Distributed on 3 floors, the hotel features the Restaurant Rosetó on the ground floor together with a cocktail bar with a dual entrance onto the street, a rooftop terrace with small pool and views across the old town.  The design has enhanced and restored the historic features of the original building where possible to provide guests with an authentic experience.  Rates start from 129€ per night for a double room to include breakfast and local tax.
https://www.petitpalace.com/en/hotels/mallorca-centre/icon-roseto/rooms/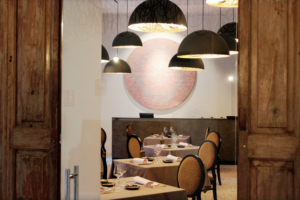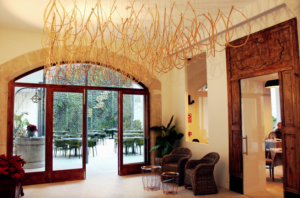 Restaurant Rosetó                                             Entrance hall of the Icon Rosetó 
Hotel Gloria Sant Jaume, Palma Old Town.  NOW OPEN!
Located in a 19th century building on the cobbled street of Sant Jaume, Hotel Gloria Sant Jaume was formerly a Mallorcan family home which was acquired by an another local family of hoteliers to create their signature hotel on the island.  The whole project has taken two years to complete incorporating a classic blend of the building's original details together with the family's extensive personal art and antiques collection creating a private home atmosphere with modern day comforts and technology.  The hotel is distributed on three floors with 14 bedrooms on the "planta noble" and the upper "atico" of the building.  All the rooms are individual in character, finishes and décor with traditional details such as wooden beams, original tiles, floor to ceiling wooden interior shutters and marble in the bathrooms some of which feature freestanding baths.
Additional features include the hotel's "El Patio de Gloria" restaurant and sumptuous wooden panelled bar area; a fully equipped spa in the basement with sauna, Hamman and a good sized indoor pool.  For hotel guests drinks are served on the rooftop terrace with small pool, sun loungers and views across the old town.  Rates start at 280€ per double room, per night, to include breakfast and local tax: www.gloriasantjaume.com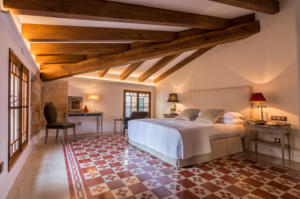 Hotel Mamá – Plaza Cort, Palma Old Town.  Opening March 2018.
This will be the first hotel to be opened by the successful Cappuccino Café Group which was established in Palma in 1993 by local entrepreneur Juan Picornell.  The site of the hotel is on a former 19th century building (an old luggage store) facing Palma's Town Hall with interiors by the internationally renowned Parisian Jacques Grange, to offer a unique concept in the 32 rooms and suites featuring 5 different design concepts, colours, textures, furniture and art.
The building is distributed on 4 floors and focused around an impressive central courtyard complete with fountain that is surrounded by palm trees. Features include the "Spa" with gym and treatment rooms; "Cappucine", a private 30 seater cinema; three restaurant concepts; "Café Mamá ", which will be open all day until midnight serving drinks, snacks and main meals; "Inu", will be open at lunchtime and in the evening offering Japanese cuisine and, scheduled to open later in the year, "Picador", with a luxury tapas menu.  A rooftop terrace will offer panoramic views across the city and a drinks service for hotel guests. Rates start at 220€ per night to 1,200€ to include breakfast and local tax. https://www.hotelmama.es/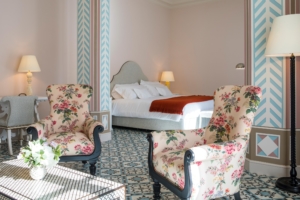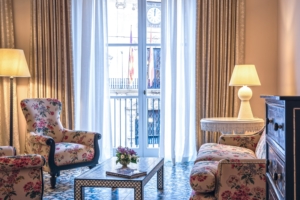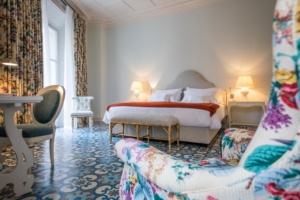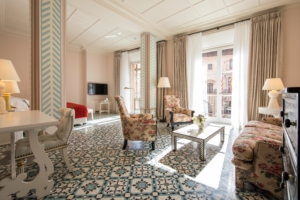 Examples of suites at the new Hotel Mamá
Protur Naisa Hotel opening autumn 2018.
This will be the first hotel for the Protur Group in Palma and is located on the site of an old military building next to the Police Station on Palma's Paseo Mallorca.  It will be a 5 star hotel featuring 100 rooms on 8 floors with a restaurant, spa/gymnasium, swimming pool and parking and a rooftop terrace with covered pool and bar/snack service.  Completion date is scheduled for autumn 2018. http://protur-hotels.com/en/
A sixth hotel is also scheduled to open with 18 rooms close to the San Francesc Hotel in Plaza Sant Francesco.
Mallorcan Tonic promotes boutique hotels and island experiences
Travel expert and former Mallorcan resident, Deidre O'Connor, has recently launched a specialist website for booking hotels, restaurants and unique experiences.  Regular blogs and updates are posted on the site providing an updated source of information on what and where to go on the island out of season.  A direct booking facility is featured for a selection of quality boutique hotels in Palma and around the island with discounted rates and specials such as a welcome bottle of cava in the room. http://www.mallorcantonic.com
Further press information and images:  Dominique Carroll or Toni Gomez, Fomento del Turismo de Mallorca.  Tel: + 34 971 725396 (Dominique Mobile: + 34 669 49 77 22) email: news@newsmallorca.com   Visit our NEW website: www.newsmallorca.com