Palma de Mallorca, May 2021. The Brits favourite overseas holiday island of Mallorca has endured probably its most challenging time to date year due to the closure of its tourism industry and the ongoing travel restrictions imposed by the coronavirus pandemic. Regardless, local, national, and international hoteliers, including the prestigious Four Seasons Group and Sir Richard Branson's Virgin Group, continue to invest in new hotels in Mallorca especially at the luxury boutique-end of the market, confident that demand for this island paradise, that is only 2-hours flying time from the UK, will continue when travel restrictions are lifted.
Mallorca's tourism message continues to be one of premium quality, personalised experiences and privacy; many of the new hotels feature private terraces, pools and Jacuzzis. The entire tourist sector is also changing focus to a sustainable tourism model that protects the local environment, enhances the use of natural forms of energy, recycling and promotes use of local produce.
Herewith a round-up on the island's latest gems:
Can Ferrereta, Santanyi – scheduled opening May 2021
The latest hotel project for the award-winning owners of the stylish Hotel Sant Francesc in Palma's old town, is an original 17th manor house at the entrance of the historic town of Santanyi on the southeast corner of the island.  Can Ferrereta will feature 32 bedrooms with a design concept that maintains the character of the original building blending it with contemporary interior design as successfully employed in the Hotel Sant Francesc.
Features will include a bar, two restaurants; "Ocre" with an entrance directly onto the street and "La Fresca" bistro-style restaurant.  This will be located next to the 25 metre pool with sunbathing area and surrounded by the hotel's Mediterranean gardens.  As Santanyi has two local weekly markets, the emphasis in the restaurants will be on seasonal Mediterranean cuisine prepared with fresh quality produce. An important feature will be the "Sa Calma" spa with a heated pool, gym, sauna and Hamman.
The hotel aims to become involved in the local community promoting arts, crafts and gastronomy and will feature a collection of contemporary art including works by well-known Mallorcan and Catalan artists.
Can Ferrereta will be open to adults and children over 14 years of age.  Rates for a double room with breakfast start at 315€ per night: www.hotelcanferrereta.com

Finca Can Beneit, Binibona – a rural treasure off the beaten track.  Now open!
Formerly an agroturismo located in the tiny hamlet of Binibona between the villages of Selva and Caimari, Can Beneit has been restored to maintain its original character and architecture that incorporates part of the hamlet's former 200-year-old church, that is now the main patio entrance of the hotel.  Can Beneit is located on almost 70 hectares of land in the heart of the Sierra Tramuntana with spectacular scenery and surrounded by olive trees (the estate still produces its own olive oil) and tranquil countryside.  This small, bespoke hotel offers 10 rooms, with traditional rural character and charm, the Mirabona restaurant (open year-round), an ecological kitchen garden, swimming pool, sauna, terraces with Balinese sunbeds and plenty of space to explore.  Other services include yoga classes, massages/beauty treatments and bicycle hire.  The lead-in rate is 197€ per room, per night to include breakfast: https://fincacanbeneit.com/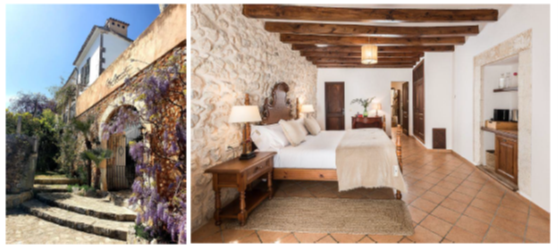 Nivia Born Boutique Hotel, Palma – opening May 2021
On Palma's elegant Borne Boulevard, the new 24-room boutique hotel will open in May.  To reflect its surroundings in the heart of Palma, the interiors feature a stylish mix of classic interiors with glamorous, 50's details such as the "Hollywood" style velvet covered headboards in the bedrooms and suites.  One of the main features of the hotel is its magnificent rooftop café/restaurant/bar on the 7th floor called "Fly me to the Moon" where guests can enjoy views across the city. The hotel will offer 24-hour room service and valet parking. The special opening rate starts at 180€ per night, to include breakfast. www.niviabornboutiquehotel.com

Can Cera, to reopen summer 2021 with a private house-hotel concept – Palma
This 17th century palace in the heart of Palma's old town was the first hotel for the boutique hotel group; IT Unique Spaces.  Throughout the pandemic they worked on different concepts for their hotels starting with Can Cera with a radical transformation to offer guests (adults only) a more intimate experience in a private house/member's club style that becomes their personal space during they stay.  The original enormous wood entrance door now opens into a patio/lounge area with a blend of period and contemporary furniture featuring works by local and famous Spanish artists throughout. Full-length floor to ceiling curtains create different areas and private spaces to relax. The new menu highlights the best produce from the island and the mainland catering for the most discerning palate. The new look Can Cera will open early summer 2021. Room rates start at: 250€ per night to include breakfast.
https://www.cancerahotel.com/en/

Concepció by Nobis to open in the Sant Jaume area of Palma, June 2021.
Originally an old soap factory in 1576, this emblematic historic building located on Carrer de Concepción near the shopping area of Jaime III and Passeig des Born, has been transformed into a stylish hotel designed by the family owned Scandinavian Nobis Hospitality Group as a relaxing oasis within the city.  The hotel features 31 rooms and suites, an inhouse restaurant and bar, rooms for meetings and events, an outdoor pool and gymnasium: www.concepciobynobis.com
NEWCOMERS – hotels that opened last summer:
Hotel Ten, Sineu – now open!
This restored historic townhouse in the market town of Sineu located in the centre of the island is a 30minute drive Palma and close to the beaches of Can Picafort and Playa de Muro on the north coast. Owned and managed by a British family, the hotel features nine bedrooms – all individually decorated – some with a private terrace and one suite (scheduled to open this autumn) that will feature an upper terrace with a private splash pool.  The hotel has its own restaurant focusing on Mediterranean cooking and local produce, a large salt water pool with terrace, a gym with yoga mats, bike hire, and massages can be organised in the privacy of your own room. Lead-in price for a double room to include breakfast start at 140€. www.tenmallorca.com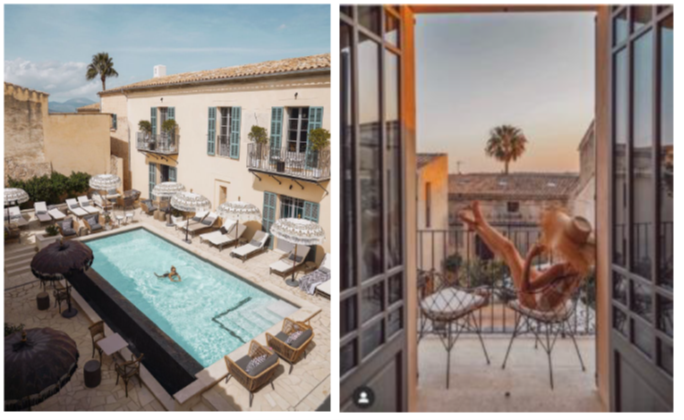 The Zafiro Palace Hotel Andratx opened late spring 2020. Is the second 5-star hotel for the Zafiro Group, located in Camp de Mar next to the 18-hole Andratx championship golf course and within a short stroll of the beach and close to the traditional harbour of Puerto de Andratx.
The hotel features 304 suites, a choice of private rooftop mini pools or hydro-massage tubs with spectacular views across the sea and the Sierra Tramuntana Mountains. There are 48 private swimming pools, 3 main communal pools (one indoor in the spa and wellness area).  The premium, all-inclusive hotel concept is aimed at couples and families with plenty of onsite facilities.
There are 10 different restaurant and bar options with four à la carte restaurants to include the Italian, El Pórtico, Tastes & Sushi Restaurant, Bistró la Veranda. Caliu Restaurant Grill and "The Market" buffet-style restaurant.  All restaurants feature the option of Premium All-Inclusive with leading brands. Live music and entertainment is offered from May through to October, along with a Guest Relations Team at the guests' disposal during their stay.
Lead-in price for two people in a Junior Suite starts from 150€ per night, room only.  For a Family Junior Suite (2 adults & 2 children – aged 2-12 years) prices start from 210€ per night or from 323€ per night for a family of 4 with the all-inclusive option to include breakfast, lunch and dinner. This year, the hotel hopes to open on April 30th (check their website for details):https://www.zafirohotels.com/en/hotels/zafiro-palace-andratx/

Can Aulí – Pollensa (opened August 2020)
The new boutique hotel "Can Aulí Luxury Retreat" is a conversion of a 17th century manor house in the heart of Pollensa town that originally opened briefly in August 2020.  It is the fifth hotel for Palma-based IT Mallorca Unique Spaces Group, and their first hotel outside the city.
The hotel décor is a stylish blend of modern rustic using local hand-woven fabrics alongside contemporary pieces to enhance the historic character of the building with its wooden beams, high ceilings, exposed stone walls and elegant arches to create a comfortable home atmosphere with all modern comforts.
Can Aulí features 21 rooms – some with their own private terrace with views of the Sierra Tramuntana. A restaurant/gastro bar serving breakfast and snacks throughout the day, an outdoor swimming pool with bar and garden. With so many excellent local producers nearby, Can Aulí offers guests the best breakfast in town using ecological produce wherever possible together with a range of foods for guests with diet intolerances.  The hotel also follows a sustainable policy and reducing the use of plastics by sourcing alternative, recyclable products where possible.
The hotel is scheduled to open in April (check the website for updated information). Prices start at 200.00 € per night for a deluxe room based on two people sharing to include breakfast: www.boutiquehotelcanauli.com

COMING UP – hotels in the pipeline:
EL VICENÇ DE LA MAR, 5*, Cala Sant Vicenç (scheduled opening spring 2022)
Further to the opening in 2019 of the stylish El Llorenç Parc de la Mar 5* in Palma, the owners will open their second hotel on the island next spring in the seaside location of Cala Sant Vicenç on the north coast of Mallorca. Called El Vicenç de la Mar 5*, the concept is to replicate 5-star boutique hotel service and quality in a beach setting offering guests the option to enjoy a city and beach location with a variety of sports activities.
The El Vicenç de la Mar 5* is scheduled to open in the late spring of this year and will feature 35 rooms. Some of which will have their own private terraces; three will have a private Jacuzzi, two suites with their own private swimming pools.  Five of the rooms will have direct access from their terrace to a shared pool. Main features will include a spectacular rooftop terrace with a swimming pool, bar and bistro where guests can enjoy the views across Cala Sant Vicenç and the Sierra Tramuntana Mountains.  The hotel will feature its main rooftop restaurant with spectacular views and a bistro restaurant on the ground floor, a spa and gym with full facilities; a home cinema; a library; two meeting rooms (with a combined capacity for up to approximately 60 people); a bicycle storage room and parking for up to 18 cars.  Further information: direccion@cmallorcacollection.com or via https://www.elllorenc.com/en/

New Kimpton Hotel Santa Ponsa scheduled for opening in 2022
The site of the former Santa Ponsa Country Club near the golf course in Mallorca's southwest region is currently undergoing a complete reconstruction to develop a new 78 room hotel by Kimpton Hotels & Restaurants owned by the Intercontinental Hotels Group.
The project is a total renovation of the existing social and sports complex with the construction of the new hotel to create a large sports leisure complex, a social club with 3 restaurants, conference rooms, multifunctional space for events, gym, spa and indoor pool, beauty centre, a large garden with 2 outdoor pools and a first-class tennis sports complex.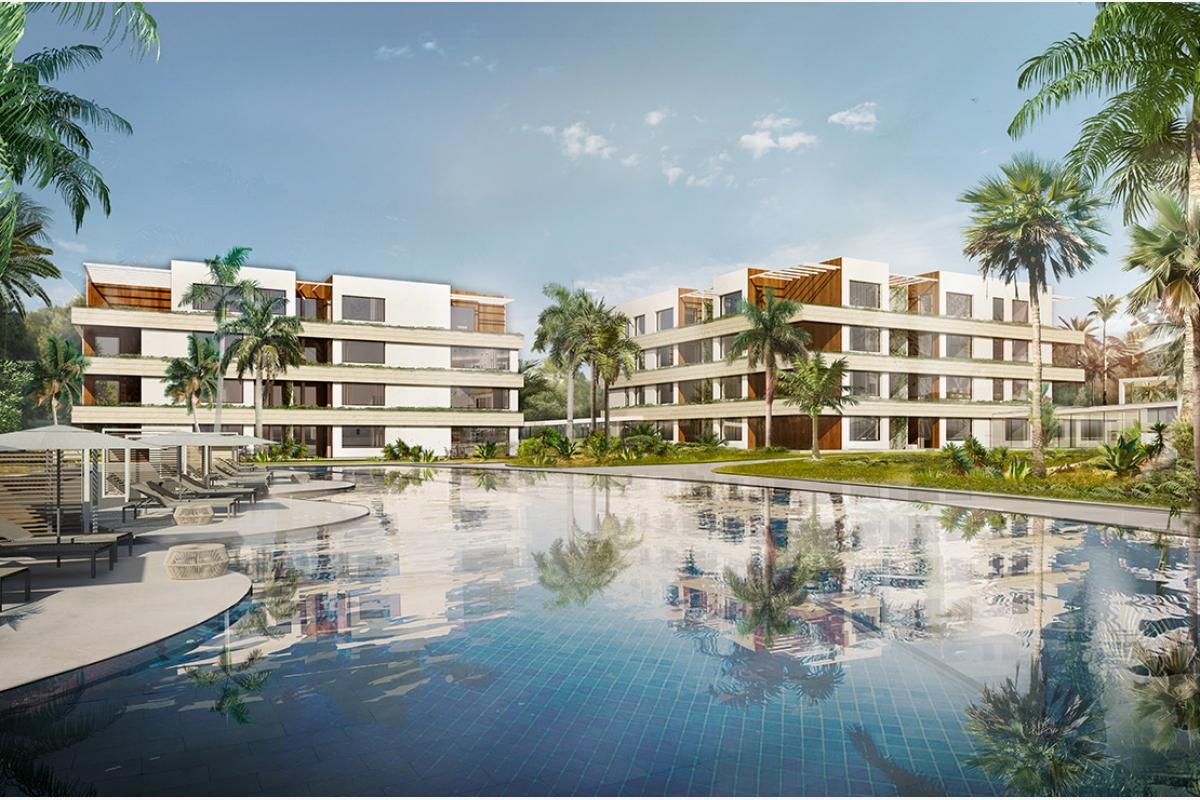 New accommodation-only concept hotel for Porto Cristo.  The Anirà Bé Petits Hotel Group operates six hotels in Menorca and is now planning to expand in Mallorca with the opening of a further four hotels.  The first project is the renovation of a former "Bini pension" overlooking the marina in Porto Cristo on Mallorca's east coast.  The "socialising" concept behind the hotel is to provide an accommodation-only base for guests, encouraging them to go out and eat and drink in the bars and restaurants nearby thereby benefiting the local economy. The hotel is scheduled to open in 2022.
Mallorca's iconic Formentor Hotel to re-open as a FOUR SEASONS hotel in 2023
At end of last year, the industry's largest hotel sale was completed by the Barcelo Group to EMIN Capital who will develop the island's iconic Formentor Hotel as a Four Seasons. Favoured by statesmen and movie stars such as Grace Kelly and Prince Rainier of Monaco, Charlie Chaplin, Peter Ustinov and Winston Churchill since its opening in 1929. The arrival of the prestigious Four Seasons brand on the island is a significant step for Mallorca's tourist sector and underlines the quality that the island can now offer.
Located in the far northern tip of the island at Cap Formentor renowned for its natural beauty, the hotel is tipped to become the most luxurious on the island further to an estimated 20 million euro refurbishment of the property and its 1,200 hectare estate that also includes a vineyard and hunting grounds.   The estimated opening is scheduled for 2023.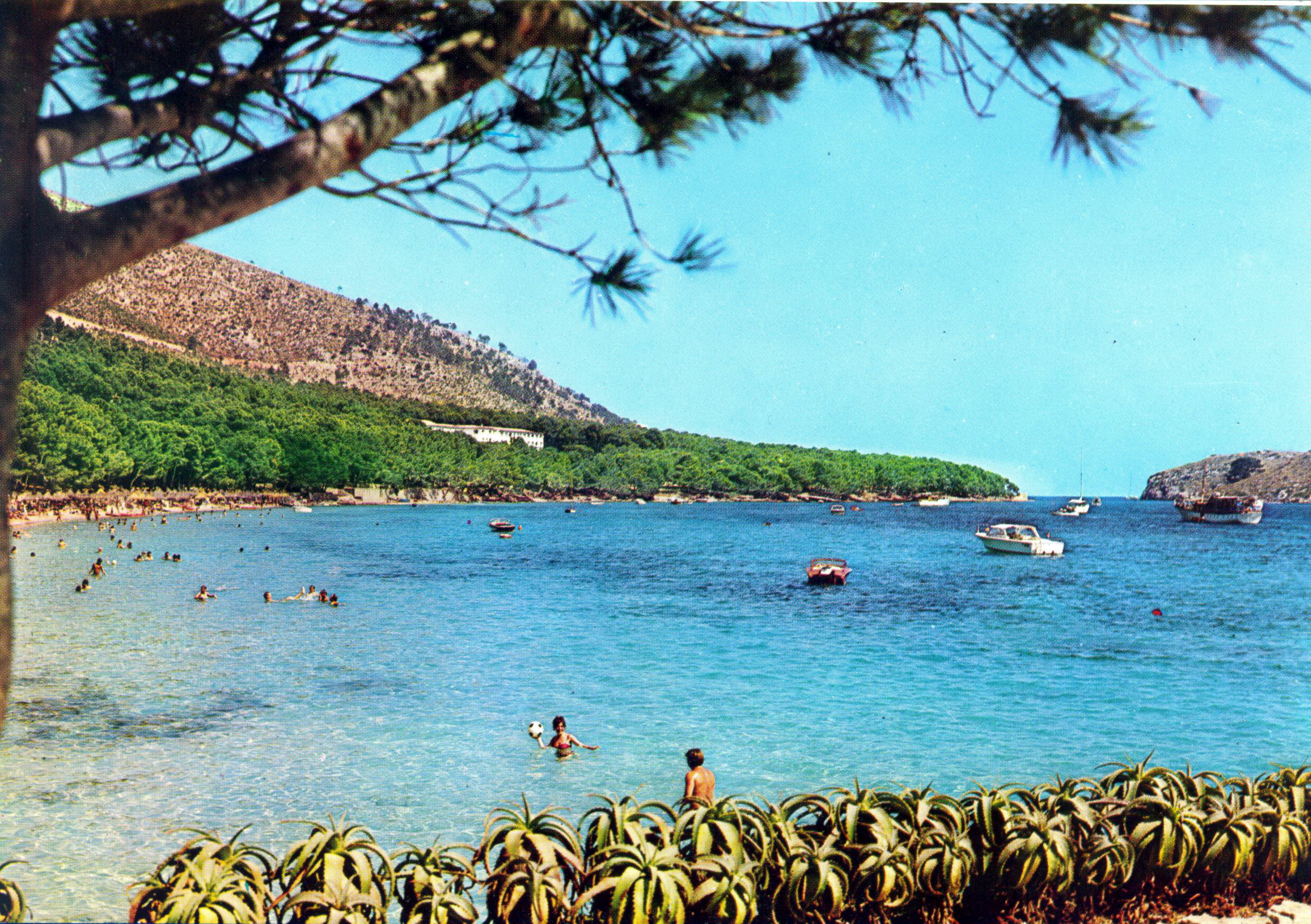 Sir Richard Branson to open new hotel on his Son Bunyola estate in 2023
Finally, Sir Richard Branson's vision to bring a beautiful 15th century Mallorcan rural manor house back to life will now be realised with the development of a luxury 29-bedroom hotel on his Son Bunyola estate.  The estate covers 700 acres and is located at on the island's northwest coast dominated by spectacular scenery of the Sierra Tramuntana.  Works will start this spring with the aim of opening in 2023.
Cappuccino Hotel, Puerto de Andratx.  The successful café and restaurant Cappuccino Group, that opened the Hotel Cappuccino in Plaza Cort (in the centre of Palma's historic old town), is now planning the development of a 12-bedroom boutique hotel above the existing Cappuccino restaurant/café located beside the popular harbour at Puerto Andratx in Mallorca's southwest
Further press information/images: Dominique Carroll/Toni Gomez, Fomento del Turismo de Mallorca. Tel: + 34 971 725 396 (Mobile: + 34 669 49 77 22) email: news@newsmallorca.com
Background: The Fomento del Turismo (known as the Mallorca Tourist Board) was founded in 1905 and is the longest established tourist board in Spain and possibly in the world.  It was established with the objective of creating awareness of Mallorca as a destination and to study and implement how to promote the island to potential visitors. This institution, located in the centre of Palma, remains a private, independent and non-profit making entity that is supported by members from throughout the island's tourism sector. www.fomentmallorca.org