A British Chef lead's Mallorca's top chefs to sing for the hungry this Christmas
Mallorca's top British chef, Marc Fosh, has swapped his chopping board for a guitar and gathered leading local Spanish chefs on island to sing for peace this Christmas and raise money for the World Central Kitchen.
Marc Fosh of Michelin starred restaurant "Fosh" in Palma de Mallorca has composed the song "Don't Ask Me Why?" and is the driving force behind an impressive lineup of 13 of the island's top chefs (many with Michelin starred restaurants) with the objective of raising money for the extraordinary work the World Central Kitchen (WCK).
Marc's song has been produced by local Mallorquin musicians Jaime Anglada and Sergio Llopis and mastered in the Abbey Road Studios in London with a video directed by Spanish award-winning photographer, Nando Esteva.
See the chefs performing in this video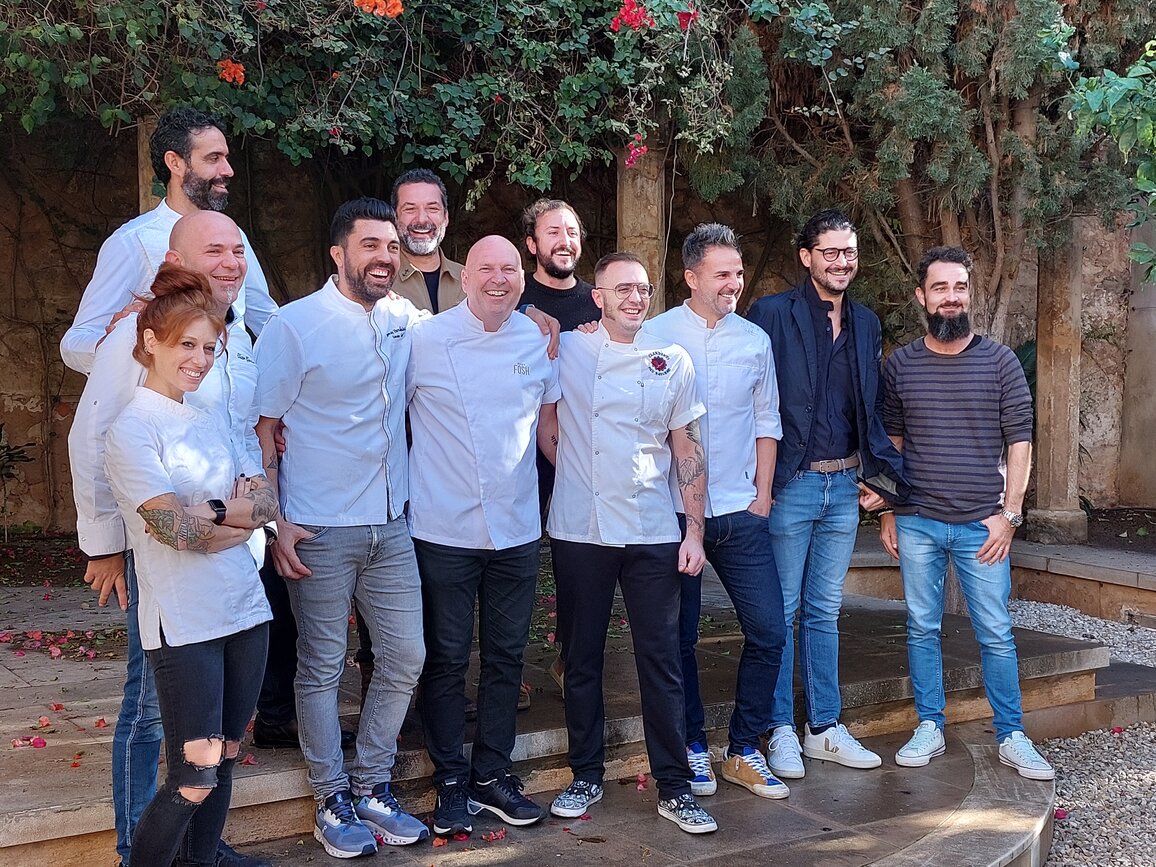 Some of the Chef Aid Mallorca chefs with their production team during the presentation of the project in Palma de Mallorca.
The Chef-Aid Mallorca chefs are Adrián Quetglas, Santi Taura, Andreu Genestra, Maca de Castro, Fernando Arellano, Tomeu Caldentey, Pau Navarro, Miquel Calent, Ariadna Salvador, Victor García, Joan Marc Garcías, Jonay Hernández, Lluís Perez and Marc Fosh.
Comments Marc, who has lived and worked in Mallorca for over 28 years; "The biggest challenges were to gather us all together in one room at the same time and convince all these Spanish chefs to sing in English!  Hopefully with the support of the island's residents and all the tourists that regularly visit Mallorca each year, we will raise a substantial amount of money for the incredible work of the World Central Kitchen".
Donations: www.chefsmallorca.com
The World Central Kitchen is a non-profit organisation dedicated to providing food to areas where natural disasters have occurred around the world. It was founded by Spanish chef José Andres in 2010 further to the earthquake in Haiti that devasted the island and left thousands of people homeless and hungry. WCK works with local chefs in areas from the Ukraine to Pakistan and Florida, to name a few, that have been hit by any climatic or humanitarian crisis to quickly and effectively provide a solution to feed the local population.
ends
Further press information/images: Dominique Carroll/Toni Gomez, Fomento del Turismo de Mallorca. Tel: + 34 971 725 396 (Mobile: + 34 669 49 77 22) email: news@newsmallorca.com