Christmas shopping in Palma 
– Online shopping Mallorcan gift ideas
– From vintage travel posters to new book releases 
In the run up to Christmas shopping in Mallorca's capital city is a relaxed experience compared to other capitals around the world.  For those fans of Mallorca unable to visit in person, there are plenty of online gift ideas to order a little Mallorcan Christmas spirit to your door.
Shopping in Palma
Visitors will find top international designer names in Palma including Burberry, Mulberry, Louis Vuitton, Pinko, Carolina Herrera, Farrutx, Armani, Cartier, Hugo Boss, Bimba & Lola, Uterqüe, and Loewe with all the best of all the big high street names in the two El Corte Ingles department stores in Jaime III and Las Avenidas.
Lifestyle – explore the side streets off the main shopping boulevard of El Born for one-off original boutiques, art galleries, ceramics, and fashion.
Palma's most stylish shopping emporium is Rialto Living, located on Calle San Feliu just off the main shopping boulevard of El Born, is housed in a converted Baroque palace that dates back to the 18th century and has been turned into 1,500 m2 of space dedicated to shopping with lots of fun and quirky Christmas decorations, books, flowers, fashion, jewellery, scents, household goods/ceramics, fabric (including the island's traditional handmade tela de lengües).  Inside, The Rialto Café is also a great oasis for shoppers where you can sample some special Christmas dishes with a glass of Swedish ""glögg" mulled wine: www.rialtoliving.com

Christmas Turrón and Palma's traditional bakeries
Traditionally eaten at Christmas, turrón is a traditional sweet made from a mixture of honey, eggs, sugar, and toasted nuts. Its origins go back over 500 years ago to the time of the Moors. Today, turrón comes in all different varieties and flavours.  Some of the best home-made turrones can be bought from traditional delicatessens/pastry shops across the island and in Palma these include:
"Forn Fondo" in Calle Union 15 is a traditional family pastry and "bomboneria" celebrating over 100 years : www.ensaimadasmallorca.es. Fornet de la Soca with two bakeries on Calle Unión and on Plaza Cort: www.fornetdelasoca.com it's worthwhile seeking out this traditional bakery recreating forgotten local recipes from the turn of the century with a beautiful display of Mallorcan products to take home.  "La Pajarita" in Calle Sant Nicolau, dates back to 1872 with a tantalising display in its two stores; a charcuterie with local sobrassada, cheeses, hams, olive oil and local sea salt and the other store offering handmade chocolates, "turrons", glacé fruits and bon bons: www.lapajarita1872.com.  Turrones Vicens in C/Bosseria were established in 1775 and are still going strong with an extensive range of turrón and chocolate featuring the creations of top chefs.  Their products can also be purchase online:  https://www.vicens.com/en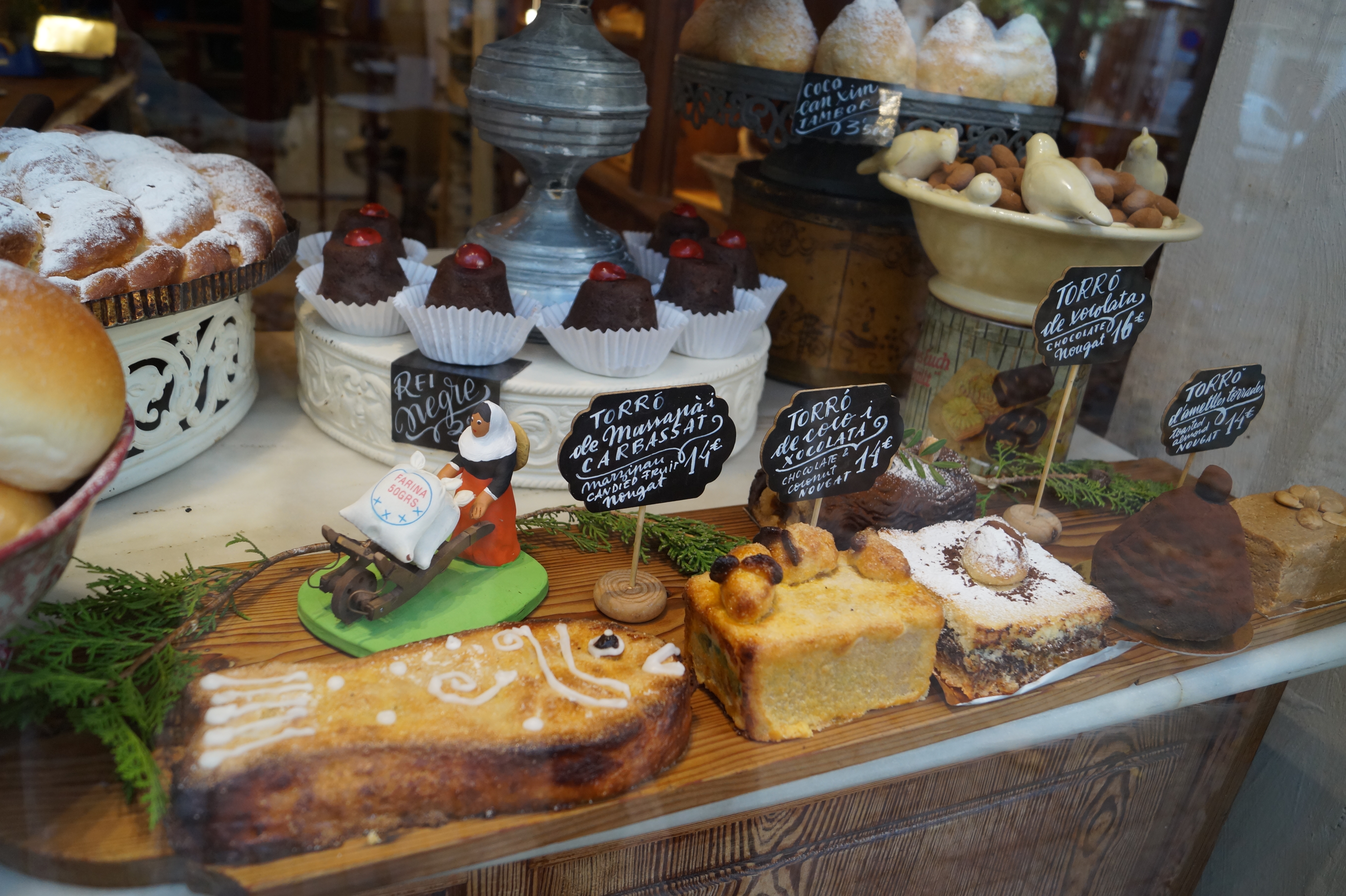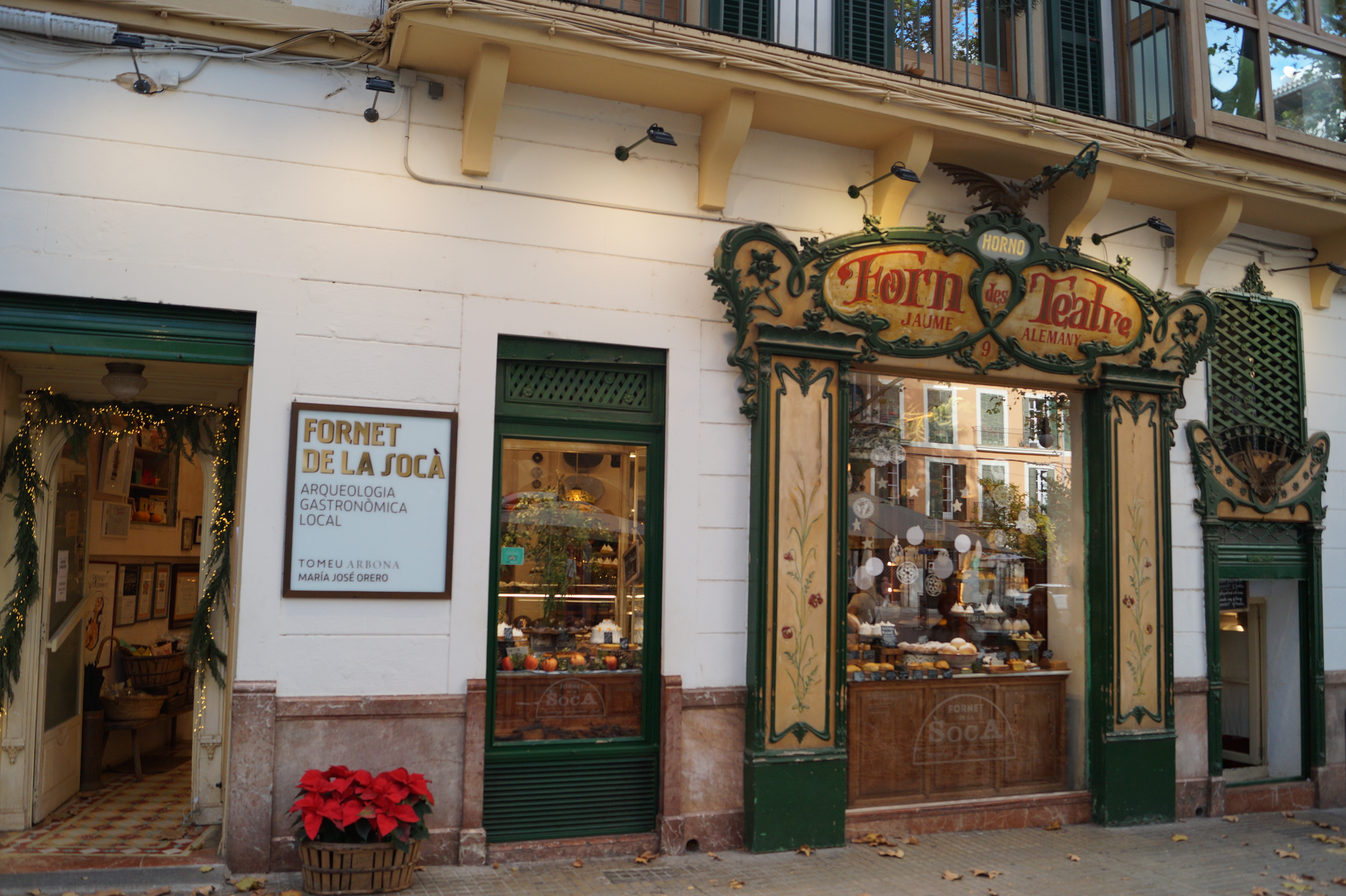 Shoes & Leather goods
Mallorca has a long history of leather craftsmanship and today Mallorca features quality brands including shoes by Lotusse www.lotusse.com, Carmina hand crafted shoes: www.carminashoemaker.com and internationally renowned Camper shoes www.camper.com.
Jewellery
There's a great variety of designer jewellery stores in Palma including local designer, Isabel Guarch: www.isabelguarch.com; the stylish Nicolas boutique www.nicolasjoyeros.com, Relojeria Alemana, a local top quality jeweller featuring a wide range of international brands with their own designs: www.relojeriaalemana.com and the international Catalan brand, Tous: www.tous.com.
Boutiques –Tara's handmade leather Spanish handbags: www.tarasart.es and CORTANA (www.cortana.es)
Handcrafted artisan goods
Typical Mallorquin lace and embroidery work can be found at some of Palma long established shops such as Bordados Valldemossa in Calle San Miguel. Handmade wicker baskets called "Senallas" can be found at Alpargatería Concepción in Calle Concepción: https://www.facebook.com/alpargaterialaconcepcion/info
Christmas Markets
A large selection of Christmas goods, including everything you need to make your own nativity scene, are on sale in Palma's two main plazas: Plaza Major and Plaza España and in the Pueblo Español: www.nuevopuebloespanol.com.
MALLORCAN GIFTS ONLINE!
… and if you can't get to Mallorca these traditional Mallorcan gifts are now available online
 Tela de Llengos
The island's distinctive "Tela de llengües" hand-made printed cotton material in different bright colours and designs is often seen covering furniture, and as curtains or cushions. One of the most traditional manufacturers of this material is Teixits Vicens.  Based in Pollensa, this family-run artisan textile factory and craft workshop is passionate about maintaining the Mediterranean spirit of craftsmanship that is fundamental to its product with careful attention to conservation, innovation and perfecting their fabrics. Various items can also be purchased online: https://www.teixitsvicens.com
Vintage Travel Posters of Mallorca Landmarks
Stunning new images from original watercolours of Mallorca's landmarks painted in the 1930's together with Mallorca's earliest poster campaigns, have been released from the Fomento del Turismo de Mallorca's historic archives as vintage travel posters by leading specialists Stick No Bills®. Now available online in limited and open editions and delivered to your door.  Free postage and packing on all orders over £50.  For example, the cost of a 29.7 x 42cm / 11.7″ x 16.5″ archival quality limited-edition print in the Mallorca Vintage® collection starts at £42.30 plus p.p. https://sticknobillsonline.com/collections/mallorca-vintage-collection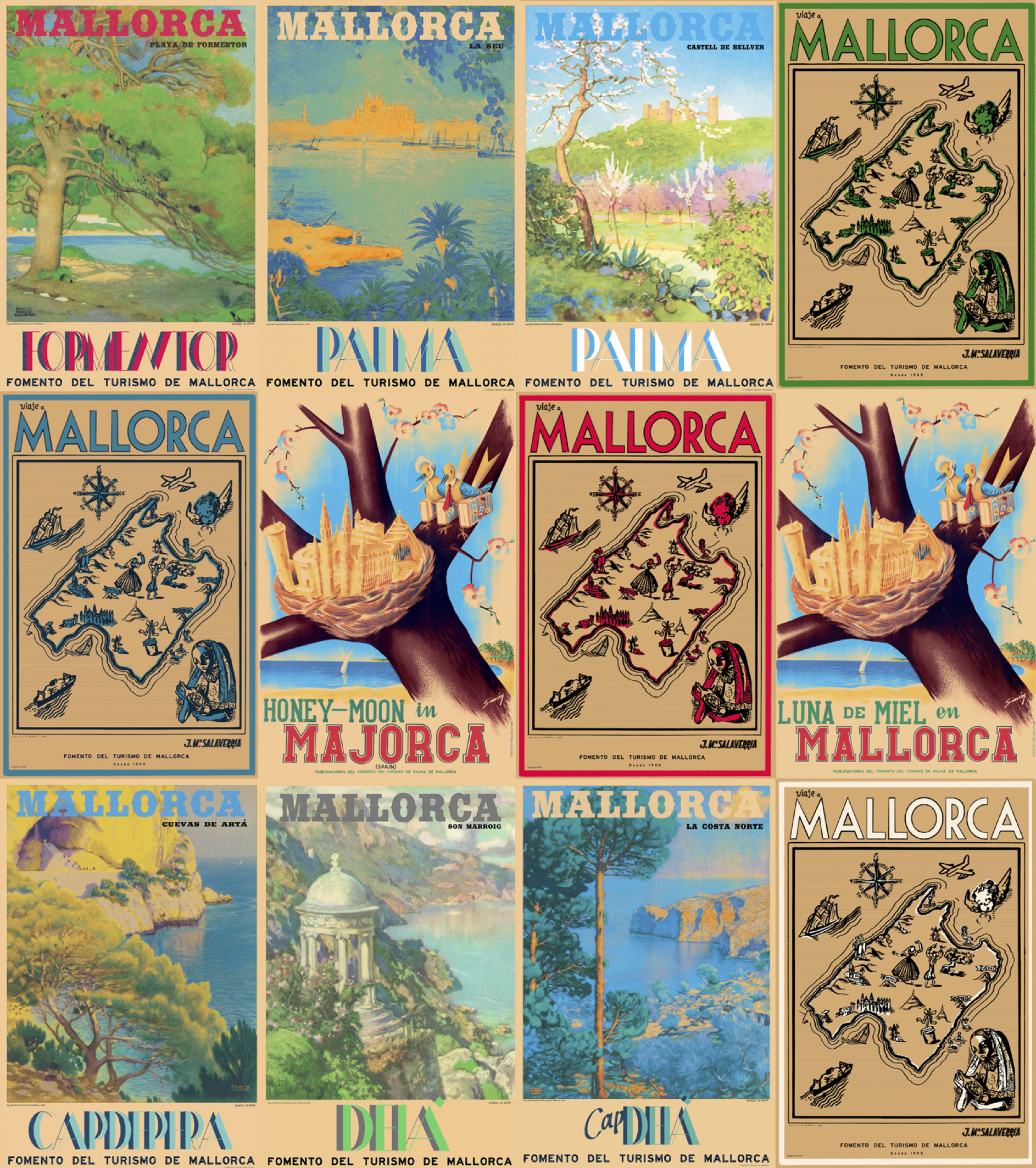 NEW book releases by English authors resident in Mallorca

Daughter of Deià by Jan Edwards
Local radio presenter and author, Jan Edwards, invites you to enjoy some armchair travel with a visit to the Mediterranean island of Mallorca, in this feel-good story of a 41-year-old singleton's life-changing visit.
Hideaway Hotel – secrets of a Mediterranean retreat by Louise Davis
When Louise Davis accepted the position of PR manager at a "jetsetters hideaway" in the idyllic village of Deià, Mallorca, she was determined to build on the hotel's success. Even with its understated elegance, it was popular with top models, TV celebrities, film directors, cinema stars, best-selling authors, politicians, and Silicon Valley movers and shakers. An insight into the running of one of the island's most iconic hotels.
Haunted Magpie by Anna Nicholas
Anna Nicholas is the most prolific British author writing about Mallorca today. She lives in the Soller with her family.  She has written a 6 travel books on Mallorca and has started a new crime fiction series, The Haunted Magpie is the second in the series.
Modern Mediterranean by Marc Fosh
Join Michelin-starred chef Marc Fosh on a journey through Mallorca and beyond, discovering incredible produce and delicious recipes along the way.  The book features over 100 delicious recipes from rustic classics such as Iberian Meatballs with Spiced Pumpkin and Chickpea Stew to luxurious, special occasion dishes like Papparadelle with Lobster, Truffle and Chives.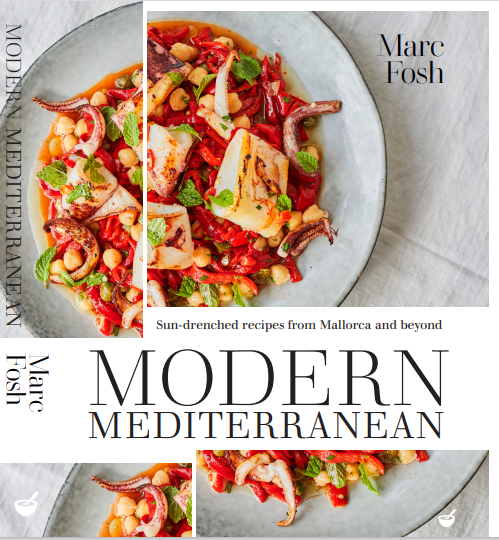 Faces of Mallorca by Mark Julian Edwards and Steffi Schulz
The book features short interviews and pictures of 59 people of people from across the island. Combining stunning imagery with moving stories, the book shows an eclectic range of Mallorcans as they share their hopes and dreams with the reader.  The authors interviewed well-known people on the island, including tennis coach Toni Nadal, Michelin starred chefs, artists, and musicians. But they also feature many unknown characters such as fishermen and silent nuns.
All these books are available on www.amazon.co.uk