The island's wine culture is an increasing attraction to visitors
The island is becoming increasingly renowned for its high-quality wines, which are largely made from local grape varieties, making them unique in the world. Visitors interested in the subject of gastronomy and wine can not only choose from a wide variety of Mallorcan wines in most restaurants, but there is also a wide range of wine-related activities available throughout the island.
Wine and Fiestas – a happy combination
One of the largest events in Mallorca is the traditional Fiesta des Vermar in September, which marks the end of the grape harvest in the DO Binissalem area. This village is located at the foot of the Serra de Tramuntana and all the villagers get involved in the celebration of "Sa Vermada" (grape harvest). Some of the most spectacular activities include treading the grapes, the grape battle, the wine fair, and the annual street party/dinner of "Fideus de Vermar", a typical Mallorcan dish eaten after the harvest. https://www.ajbinissalem.net/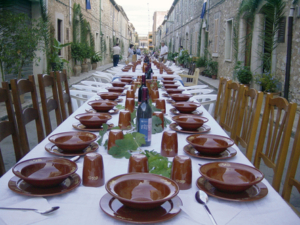 Photo courtesy of "Arós amb salseta"
At the end of November, the village of Santa Maria del Camí will be decked out with branches of pine for the Fiesta del Vi Novell, where the wineries of Santa Maria present the young wines from the same year's harvest. This is an event for lovers of wine, good food and Mallorcan traditions.
Visiting wineries in the centre of Mallorca
The central area of Mallorca is the DO Binissalem, a wine-growing area par excellence. It currently encompasses 12 wineries that all come under the Binissalem Denomination of Origin and together cover a total surface area of 552 hectares of vineyards. Most of these wineries offer different wine experiences: https://binissalemdo.com/en/home-en/
The wines of the Llevante
Pla i Llevant is the name of the other DO of Mallorca, which covers 19 municipalities and 13 wineries in the Pla and Llevant areas of the island, 12 of which offer tours of their bodegas with wine tastings: http://doplaillevant.com/?lang=en
Wine tastings, visits, and a true taste of Mallorca
Apart from the two DOs, many wineries in Mallorca produce Vino de la Tierra. The Son Prim bodega near the village of Sencelles offers wine tastings and the option of pairing with tapas made with local Mallorcan produce.  Visitors can sip Son Prim wine whilst sitting on the bodega's picturesque terrace with beautiful views: https://www.sonprim.com/
One of the most traditional wineries on the island is Ribas in Consell, which is now managed by the tenth generation of the family.  The bodega combines tradition and innovation, in the setting of historic 18th century houses that coexist with a modern building designed by the architect Rafael Moneo. https://bodegaribas.com/
Located at the foot of the Serra de Tramuntana, near the traditional village of Esporles, is the Ses Rotes winery, which combines horse breeding with vine cultivation. The wines of this young bodega, mainly whites and rosés, can be tasted every Friday morning by prior reservation. http://www.sesrotes.com