Since the 1960's, Mallorca's tourist industry was built on the three pillars of sea, sand and sunshine.  However, over the past 25 years, Mallorca has successfully developed its rural tourism providing authentic experiences in traditional buildings surrounded by their own estates to offer accommodation in the island's rural heartland.
0 Km Local Produce
Interest in the countryside has also driven local production of wine, olive oil, sobrassada (the spicy red pork sausage/pate), cheese, fruit and vegetables. Many producers increasingly are embracing sustainable production and introducing eco methods of farming.
These areas come into their own out of season and attract a wide range of visitors who want to experience the "other Mallorca" or pursue their hobbies; principally hiking, cycling and golf.
So herewith with a selection of 6 hotels and "agroturismos" off the beaten track…
___________________________________________________________________________________
Finca Serena, Montuiri. (adults only)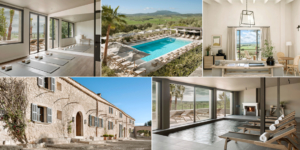 Opened earlier this year, Finca Serena is located outside the hilltop village of Montuiri, which is approximately 20 minutes' drive from Palma's International Airport.  The main hotel is housed in a traditional rustic building that dates back to the 13thcentury and features 25 rooms and suites.  Facilities include the Jacaranda Restaurant, a spa with indoor pool, sauna and gym, a large swimming pool with sunbathing terrace and a lock-up for cyclists.
The estate surrounding the hotel spreads over more than 40 hectares with over 800 olive trees, cypresses, lavender, lemon trees, pines and 10 hectares of vines planted with autochthonous grapes so that Finca Serena can,  in the future, offer guests their own estate wine.   The hotel's kitchen garden supplies the restaurant with fresh vegetables, fruits and herbs.
The concept of the hotel is to enjoy its natural environment and the panoramic views across El Pla (the central region of the island) and the Sierra Tramuntana Mountains. Guests are encouraged to try out various running/walking routes from and around the estate.  The hotel's décor creates a stylish, rustic feel combing neutral and earth tones that reflect the laid-back ambience.
Finca Serena will close from end November 2019 to the 30thof January, 2020.  Lead-in price for a double room is 275€ per night to include breakfast: www.fincaserenamallorca.com
___________________________________________________________________________________
 Sa Carrossa Hotel & Spa, Artá. (families welcome)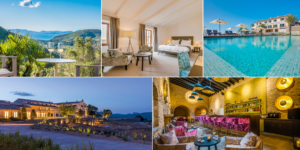 The island's latest five star hotel resort is located in the northeast of the island on a large estate spread over 350 hectares of countryside, mountain scenery with views over to the historic town of Artà just 10 minutes' drive away and over to the coast and beautiful beaches such as Cala Torta.
This former 18thcentury manor house and dairy farm has been converted by the German hotelier family, Hamacher, into a stunning five star hotel with 76 rooms and suites, 2 restaurants; the Carossa Restaurant and Bistro Badia; 2 bars, 1 modern meeting room, an extensive spa covering 1500 m2 with indoor pool and three different type of saunas; Finnish, Bio Sauna or steam bath.  Beside the spa is a full equipped gym.
Outside the large, 20 x 6 metre, heated exterior pool, with poolside bar, has panoramic views of the surrounding countryside with access to the informal bistro restaurant.   There are a variety of activities to be enjoyed on the estate or close to the hotel it's ideal for golfers with and a choice of four, 18-hole courses within a 15 minute drive of the hotel.
Prices start from 180 euros per night per room to include breakfast.  The hotel also offers a golf package based on a 7 night stay and includes breakfast, half-board and 4 green fees from 1,141 € per person. Sa Carrossa will close on November 17thand reopen February 22nd, 2020. www.carrossa.com
___________________________________________________________________________________
Sa Carrossa Villas
For larger groups, that want independent accommodation with all the facilities of a five star hotel, there are 4 independent villas of 4 – 5 bedrooms with a capacity of up to 8/10 adults accordingly.  Each spacious villa is on two levels and has its own modern kitchen, shaded terrace, bbq, gardens and an infinity swimming pool.  Daily cleaning, towel service, pool and garden service are included in the price together with a welcome basket and free access to the Sa Carossa Spa and the hotel's facilities. Prices are based on a minimum 1 week stay and start from 720,000€ per day for a 4 bed villa with capacity for up to 8 adults rising to 1,200€ per day in high season.www.carrossa.com

___________________________________________________________________________________
 Son Penya Petit Hotel & Spa, San Llorenç. (adults only)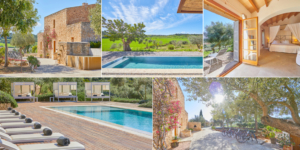 Set on an estate of over 200.000m2 of rolling countryside with ancient olive groves, almond and carob trees, Son Penya  is located near San Llorenç a short drive from the island's northeast coast and approximately 40 minutes' drive from the airport. The former finca, with some parts dating back to the early 1900s, has been transformed into a stylish rustic retreat offering 20 rooms and suites, eight of which have their own private pools.
The hotel harvests its own almonds and produces olive oil which it uses in its own 5'S restaurant.  In summer, guests can enjoy their meals on the terrace whilst taking in the rural views. The restaurant menu is based on a fusion of international cuisine with locally produced wines by Toni Gelabert (complimentary wine tastings are available every week). Plans are underway to plant a vineyard on land beside the hotel to produce natural wines and plant an organic garden, using the produce for the restaurant.
The spa has been refurbished this year to provide a new steam room and Jacuzzi together with a heated indoor pool, a Swedish sauna and fully equipped gym which overlooks the countryside.  A complimentary yoga session is held every week and spa treatments are available using local produce such as almond oil, rosemary or sea salt. Outside, the large swimming pool is surrounded by day beds and cabanas.  For sporty guests, the hotel offers off-road and racing bikes.
The hotel is owned by the Mallorquin Balaguer family, who are passionate about sustainability and this year they have installed solar panels to generate over 50% of the hotel's electrical demands.  Furthermore, they have twoBMW i3 series electric cars (for hire at 59€per day) with charging points in the hotel's car park.
Son Penya is open up until October 31stand reopens mid-February 2020.  Lead-in price starts at 200€ per room, per night, based on two sharing a room with breakfast: www.sonpenya.com
___________________________________________________________________________________
Sa Franquesa Nova, Vilafranca. (families welcome)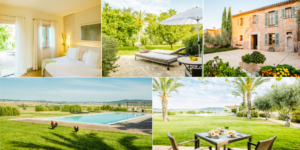 Located approximately 35 km from Palma's International Airport in the centre of the island, the hotel provides an ideal base to explore the island's countryside and coastline. The architecture and interior design of the hotel building, which dates back to the 18th century, retains its typical Mallorquin character with wooden beams, window shutters and stone-faced walls.  The 4 star hotel is part of a large estate spreading over 35 hectares with established Mediterranean gardens that blend in with the surrounding landscape with a wide variety of plants, trees and fruit trees.
The hotel has 24 rooms and suites, all with private terrace and Jacuzzi bathtub. Outside, a large salt water outdoor pool (22x6m) with surrounding sundeck and pool house overlooks the gardens and countryside.  Both breakfast and dinner are served in the hotel's main restaurant with terrace overlooking the gardens.
For active guests there's a small gym, three special cycling routes from the hotel and cyclists have the facility of a secure lock-up with cleaning and repair facilities.  Runners and hikers can also explore the hotel's estate following various routes. Animal lovers will love the estate's residents including a pony, a horse, a zebra, cats and chickens. In addition, the Rafa Nadal Tennis Academy is only a short drive away in Manacor.
In keeping with the concept of using sustainable energy, the hotel provides an electric charging point for guests that opt to hire electric cars.
Rates start from 170.10€ per room, per night (a minimum 3-night stay applies in high season) to include breakfast.  The hotel is open until October 20thof this year and will re-open on April 20th, 2020.  www.safranquesa.com
___________________________________________________________________________________
Agro Roqueta, Maria de la Salut. (families welcome)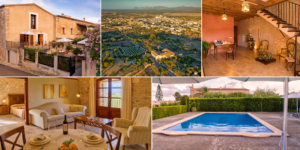 The Gelabert family own this charming agroturismo located between the villages of Sineu and Maria de la Salut. Agro Roqueta is part of a small hamlet of houses called Roqueta that originally date back to the 13thcentury and are set in farmland with almond, carob, orange and olive trees. The farm mainly produces oil from the olives that are harvested manually in October to produce the "Sa Roqueta" olive oil.
The setting and the views, overlooking the rolling countryside over to the Sierra Tramuntana Mountains, offer guests an authentic experience of rural life.
The traditional, country-style accommodation, features 2 apartments and 2 country houses with capacity for up to 2/4/6 people, with gardens and a communal exterior swimming pool. All the apartments have self-catering facilities, although breakfast can be ordered if required.
Prices start at: 95€ per day (based on a minimum 4 day stay) for a 2 bed apartment and from 125€ a day for a house with capacity for 4 people).    www.agroroqueta.com
___________________________________________________________________________________
Agroturismo Sa Torre, Santa Eugenia. (adults only)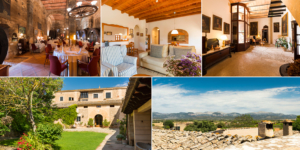 Owned and managed by the López-Pinto Mallorquin family, Sa Torre is a country estate spread over 25 hectares that dates back to 1560 and is located just outside the village of Santa Eugenia in the heart of the wine growing area.
Sa Torres manages to combine traditional Mallorquin lifestyle with modern day comforts and features 6 rooms and apartments, the Cellar Sa Torre restaurant offers fine dining and features a tasting menu with complimentary wines in the authentic setting of the estate's original wine cellar which is lined by old aged wine barrels.
Other features include two swimming pools with sunbathing terrace, a lake and approximately 3000m2 of Mediterranean gardens. Sa Torre is open year round and prices start from 170 € per night to include breakfast: www.sa-torre.com