When Palma's Rialto Cinema came up for sale 10 years ago, Swedish owners, Klas Käll and Barbara Bergman believed that it was the ideal location to open the city's first concept store. Their combined know how and buying expertise formed the basis of their strategy to mix high quality fashion, that was previously unavailable in Palma, together with gifts, books, home decoration, a café and art gallery.
At that time this concept was so new that even Palma Town Hall had to create a new category for the store. The refurbishment of the old cinema, which was on the site of a modernist 18th century building, retained many of the original details. The location of the store on Calle San Feliu, just off the main Borne shopping street in Palma, was at the time quite deserted and poorly lit. A year later the global crisis hit and even though trading was slow the couple believed in their concept and pushed on.
Exclusive Retailers of International Fashion Brands
The store introduced fashion brands such as Mulberry, Mason's, Max Mara and Scotch and Soda and as the reaction was favourable those brands have gone on to open their own boutiques in Palma. Says Bergman; "In a retail world where often the same fashion stores are represented on every high street, shopping can become boring. This is what we set out to avoid and our strategy of presenting exclusive brands and introducing new ranges every season has been a part of Rialto's success".
The store is known for fashion labels such as Aspesi, PT, Majestic, Hartford, Boglioli, Avant Toi, Salvatore Santori, Giorgio Brato, Brian Dales, Samantha Sung, Rosso 35, Drakes, Filippa Fabiani, Dondup, Care Label and Begg & Co that it first introduced to Mallorca and remain popular with Rialto's clientele.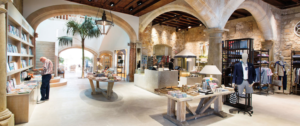 Acquisition of Palacio Can O'Ryan Expands Store
In 2012 Käll and Bergman acquired the adjoining 18th century historic palace called "Palacio Can O'Ryan" (so called as it was originally owned by an Irish military doctor, John O'Ryan, who had fled to Mallorca from Catholic persecution in Ireland and married the daughter of a wealthy local Mallorquin businessman). They undertook an ambitious refurbishment project to double the size of the store to 1,200 square metres on two levels whilst restoring and retaining many of the original architectural features including the original entrance which has been integrated into the store together with a unique modernist room which was discovered during the renovation and is now the store's "Moroccan" area filled with colourful rugs and cushions.
The new Rialto Living was officially completed in 2015 extending its range and offering 10 different areas to include linens, fabrics, paints by Farrow & Ball, interior and outdoor furniture, rugs, cushions, Swedish beds, ceramics, lighting, stationery, fresh flowers, a bespoke interior design service and a dedicated art gallery launching new exhibitions and artists to the island. On the ground floor The Rialto Cafe is located in the original courtyard of the palace with its distinctive glass atrium and serving a mix of Mediterranean dishes using fresh local produce, plus cocktails and local wines.
Renowned for its` impact on Palma`s shopping scene
A decade on the impact of Rialto Living on Palma's shopping scene is noticeable; now Calle San Feliu offers an eclectic mix of boutiques, art galleries, cocktail bars, restaurants and the five star boutique hotel Can Alomar. This influence has spread to the transformation of The Borne as Palma's premium shopping boulevard area featuring international designer brands from Louis Vuitton to Loewe.
Say owners, Klas Käll and Barbara Bergman; "Over the past 10 years we have seen Palma develop from "small-town local" to international with local artisans becoming more prominent as they have learnt to update their ranges, improve quality and present them attractively.
The development of Rialto Living and the role it has played in the revival of Palma's historic centre has been challenging and rewarding. Ten years on we continue to evolve the concept as part of our ongoing mission to make Rialto Living the most exciting lifestyle store in Europe and a "must see" for any visitor to Palma's elegant city ".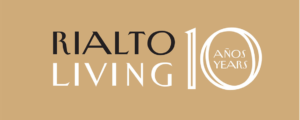 10th Anniversary Rialto Art Exhibition
To celebrate the 10th anniversary, the store has invited clients to the opening of an exhibition in August, featuring more than 28 artists, all of whom have previously exhibited in the store, to exhibit their art creations from pieces of wood that have been recycled from one of the original ceilings during the restoration.
Rialto Living, Calle San Feliu No 3, is open Monday to Saturday, from 10:00-20:30h. www.rialtoliving.com
————-
Further press information and images: Dominique Carroll or Toni Gomez, Fomento del Turismo de Mallorca. Tel: + 34 971 725396 (Dominique Mobile: + 34 669 49 77 22) email: news@newsmallorca.com
Background:
The Fomento del Turismo (known as the Mallorca Tourist Board) was founded in 1905 and is the longest established tourist board in Spain and possibly in the world. It was established with the objective of creating awareness of Mallorca as a destination and to study and implement how to promote the island to potential visitors and with over approximately 13 million visitors to the island in 2016 it has certainly completed its' original objective. This institution located in the centre of Palma remains a private, independent and non-profit making entity that is supported by members from throughout the island's tourism sector. www.fomentmallorca.org