Sunshine, easy access, varied landscapes, mountains & top sports facilities makes Mallorca top for sports in winter.
The island's mild climate and easy access makes it a top Mediterranean destination for all sports lovers especially for cyclists, golfers, and hikers with a wide range of outdoor sports including tennis and sailing and kitesurfing.
Mallorca offers:
23 golf courses (19 public, 2 members only and 2 private)
47 marinas
92 km Sierra Tramuntana – a UNESCO World Heritage Site
Over 500 km of signposted cycle routes
Over 400 km of walking routes
An estimated 600 tennis courts
Sports
Tennis
Train at the famous Rafa Nadal Tennis Academy in Manacor featuring winter courses for juniors and adults based on Rafa's own successful training programe with top coaches including Rafa's former coach, Toni Nadal: www.rafanadalacademy.com
The Palma Sport & Tennis Club in the centre of the city has full gym, yoga, and fitness facilities plus 7 tennis courts.  Visitors can also use the facilities on a daily, weekly, or monthly basis. Day passes from 80€ pp and weekly prices from 250€ pp: www.palmatennis.com
Hiking
For the enthusiast walking along Mallorca's ancient dry stone wall route – the GR221 – is one of the best ways to enjoy the Sierra Tramuntana that runs mainly through the old bridleways closer to the higher peaks of the Sierra Tramuntana.  The GR221 comprises of 183 signposted kilometres of the trail, of which 102 kilometres correspond to the main route which allows you to walk the stretch between Coll de Sa Gramola and La Trapa, Estellencs and Esporles, and links the town of Deià with Port de Pollença. The other 81 kilometres make up various alternative routes which you can walk from S'Arracó, Es Capdellà, Calvià, Castell d'Alaró, Raixa, Sa Costera, Pas Llis and Puig de Maria.  The route is divided into eight stages and each stage has its own refuge.  For further information and reservations at each of the refuges: Map of Mallorca of hiking routes 
Mallorca is also popular for Nordic Walking with clubs, events and holidays dedicated to the sport and there are events and competitions throughout the year for marathons, duathlons and triathlons attracting participants from all over the world.
Golf
There are 23 golf courses on the island, 19 of which are open to the public, two are members-only clubs and two are private. The island's mild climate means that winter is high season for the golf attracting players from all over Europe primarily German, British, Scandinavian, Swiss and Austrian: https://mallorcagolfisland.com/
Cycling
As the Mediterranean's leading destination for cyclists there are over 500 km of dedicated cycle routes across Mallorca with some 2,000 km of varying routes.  There's a good range of specialist cycling shops and cycle hire outlets across the island together with hotels that specialise in cycling holidays.  Many hotels now offer storage, bike repair workshops, spa/massage facilities for visiting cyclists. For a complete list of international cycling events in 2023 and general information:
https://www.illesbalears.travel/en/baleares/sports-and-active-tourism/cycle-tourism
The NEW Kimpton Aysla Mallorca – the first Kimpton resort hotel in Europe
This is the first European resort hotel for the Kimpton Group, part of the IHG Hotels & Resorts luxury and lifestyle collection.  It's also the island's first sports and wellness hotel that will remain open all year round. Located in Santa Ponsa in Mallorca's southwest it is easily accessed from Palma's town centre and is only a 25-minute drive to Palma's International Airport.
The Kimpton Aysla Mallorca resort hotel features 79 rooms distributed around central Mallorcan-style courtyards. Each room features a contemporary style with large floor to ceiling windows, private balconies, and rain showers.  All the interior areas are decorated with local art/artists from ceramics and paintings to wall-hangings and sculptures that have been sourced by Palma's ABA Art Lab.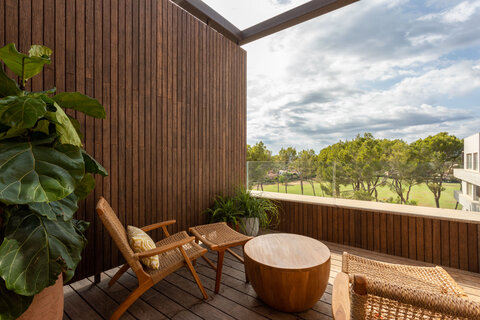 View from the terrace at the Kimpton Aysla Mallorca Hotel & Wellness Resort
One of the island's largest spas
One of the major attractions of this hotel is its spa, fitness and wellness facilities. All hotel guests have complimentary access to 900 sqm of luxurious spa with a large interior pool, mud baths, sauna, a salt cave, and seven treatment rooms offering bespoke treatments, activities including cycling, morning workouts, meditation, and yoga lessons.  In the grounds there are two large exterior pools, one of which is surrounded by real sand recreating the island's white sandy beaches
The hotel has two restaurants and two bars: the ZAYT Pool Restaurant & Bar offering a range of grilled and oven cooked dishes and the SABA Restaurant, Bodega & Bar that combines locally sourced Spanish ingredients and timeless dishes from southeast Asia.  The SABA Restaurant is based on an open plan show-cooking concept for clients to watch chefs create sushi and teppanyaki. The SABA Bar located beside the restaurant provides guest with a wide range of drinks and cocktails and a Spanish tapas menu.
The Kimpton Aylsa Mallorca resort is open year-round.  Prices for a double room in low season (November-March) start from 250€ per night to include breakfast and local tax rising to 550€ in high season (April-October).  See website for tariffs and special packages that include breakfast and local tax and complimentary access to the hotel's spacious spa, health, and fitness facilities: www.ihg.com
Top Sports Facilities
The new Kimpton resort is in the Calvià Municipality which has over 30 top sports facilities including six football pitches; five golf courses, six x 25-metre heated indoor swimming pools and two outdoor swimming pools of the same length, ideal for swimming and triathlon training at any time of the year; six first class tennis clubs; four marinas, including the famous Puerto Portals and Port Adriano.
In the immediate vicinity of the new Kimpton Aysla Mallorca hotel there are two PGA European tour golf courses, a 9-hole golf course and the prestigious Mallorca Country Club with 12 tennis courts comprising 6 grass courts, 5 clay and 1 hard-court plus 4 paddle courts, and attracting some of the world's top tennis players and where the WTA250 Mallorca Championships are held annually: www.mallorcacountryclub