The island's mild climate with plenty of sunshine provides the ideal location to practise a whole range of outdoor sports year throughout the winter. Herewith the latest news on some of the island's top sporting activities from hiking to cycling, walking and golf.
Walking & Hiking
Exploring the island's countryside on foot is one of the best ways to see the "other Mallorca" and suggested walking routes are listed all over the island in English on this website: www.illesbalears.es. Calvia Town Hall has its own guide to walks in its area which features 15 different walks with easy to follow detail and advice, comprehensive maps and information on the local flora and fauna. www.visitcalvia.com. In addition, the Rural Mallorca Association has various suggestions on their website: www.senderosdemallorca.com.
Mallorca's mountains (a UNESCO World Heritage site since 2011) provide the perfect short getaway to enjoy natural side of Mallorca. The ongoing restoration of dry stone walls, paths and refuges offering shelter to hikers is called the "Ruta de Pedra en Sec" (Dry Stone Wall Route) GR221 long-distance trail which runs along the entire length of the Sierra Tramuntana. The route is divided in eight stages, and each stage offers accommodation nearby. www.conselldemallorca.net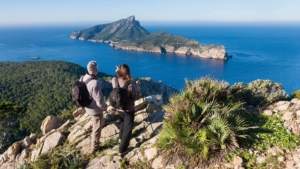 The visitor can stay in a variety of accommodation from simple hostals, authentic agroturismos to luxury rural hotels:
Mountain refuges & sanctuaries – One of the most economical ways of experiencing the mountains is to stay in the refuges or sanctuaries around the island. Mallorca's Sanctuaries, once occupied by monks, often occupy the highest points in the area and can make spectacular places to stay and the majority have restaurant facilities. Over eight are listed around the island they range from the largest at the Lluc Monastery to the smallest the Bonany Hermitage at Petra.
A total of 6 refuges (5 are currently available) are listed which offer a choice of private rooms or dormitories. These are run by the local interior government and these are open year round. Please note that reservations should be made at least five days in advance. Information and online reservation system please go to: www.conselldemallorca.net
Many agroturismo properties are located in and around the Sierra Tramuntana Mountains and there's a choice of over 100 members in the island's Agroturismo Association. www.topfincas.com
Nordic Walking
Up until December 2017Palma Town Hall Sports Department (IME) organises various Nordic FREE walking tours in and around Palma every Saturday at 10am. Information www.ime.palma.cat
Cycling
Mallorca is the number one cycling destination in the Mediterranean and provides plenty of challenging rides which is why so many international cycling teams train in Mallorca including Team Sky.
The local government has created over 260 kms of special dedicated cycling routes and a cycling route map is available featuring 10 different cycle routes with information and suggestions of hotels on each route with cyclists' facilities. Further information: www.illesbalears.es or www.inestur.es
For cycling tours around the villages of Cala Millor, Cala Ratjada or Alcudia offer breathtaking landscape to enjoy the other side of Mallorca.
For cycling competitors the "Mallorca 312 Giant Taiwan" will take place on Saturday, 28th April 2018 for the ninth year consecutive year. The different routes measuring 167, 225 and 312 km stretch across the entire island. Inscriptions are now open: www.mallorca312.com

The Long Course Weekend – 3 Nov to 5 Nov 2017
 Swim/bike/run in Alcudia – Increasingly popular with visitors, this triathlon over 3 days is the ideal for competitors and their families to enjoy the north of the island: www.lcwmallorca.com
Golf
There are 23 golf courses in Mallorca (two of which are private member clubs) of these 21 public courses 19 are members of the Mallorcan Golf Course Association: www.mallorcagolfisland.com. Approximately 650,000 rounds of golf are played on these courses each year and 25%-30% of those games are played by members the rest being made up of golf tourists who mainly play from October through to May. Recently many of the courses have upgraded their facilities such as the stylish new club house at Santa Ponsa. Many of the golf courses feature special events throughout the year.

—————-
Further press information/images:
Dominique Carroll/Toni Gomez, Fomento del Turismo de Mallorca. Tel: + 34 971 725 396
email: news@newsmallorca.com
Background:
The Fomento del Turismo (known as the Mallorca Tourist Board) was founded in 1905 and is the longest established tourist board in Spain and possibly in the world. It was established with the objective of creating awareness of Mallorca as a destination and to study and implement how to promote the island to potential visitors and with over approximately 13 million visitors to the island in 2016 it has certainly completed its' original objective. This institution located in the centre of Palma remains a private, independent and non-profit making entity that is supported by members from throughout the island's tourism sector. www.fomentmallorca.org