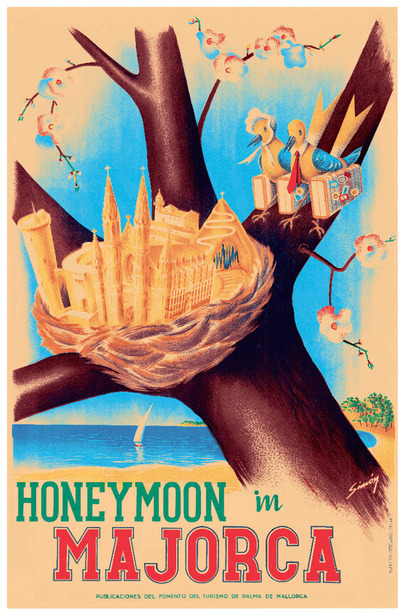 Romance was the keystone of the Mallorca Tourist Board's earliest promotional campaign back in 1950 with its successful "Honeymoon in Majorca" ("Luna de Miel").  This charming vintage poster has been relaunched, in collaboration with leading licensed travel poster specialists, Stick No Bills® and is now available in-store and online for Mallorca lovers everywhere.
The original lithograph was created by local artist, Simón Muñoz Lemaur, who entered a competition organised by the Mallorca Tourist Board (known locally as the Fomento de Turismo de Mallorca) in 1949 and in 1950 the image was used as part of a wider campaign to promote the island to honeymooners and couples in Spain and overseas in France, the UK and latterly in Germany.
The poster features the "husband and wife" lovebirds arriving on a branch of an almond tree with Mallorca's architectural icons of Palma Cathedral (La Seu), Castell de Bellver, Basilica San Francesc, Cuevas De Arta, and the summit cross of San Salvador de Felanitx – all ingeniously illustrated within the "honeymoon" nest.
The "Honeymoon" campaign marked a turning point in the island's history as tourism was regarded as a viable way for the island to grow economically.  This romantic poster was part of a "big push" to promote the destination nationally and overseas.  Now lovers of Mallorca all over the world can order these prints in a variety of sizes from £16.95 plus pp, for an A4 size poster:
https://sticknobillsonline.com/collections/mallorca-vintage-collection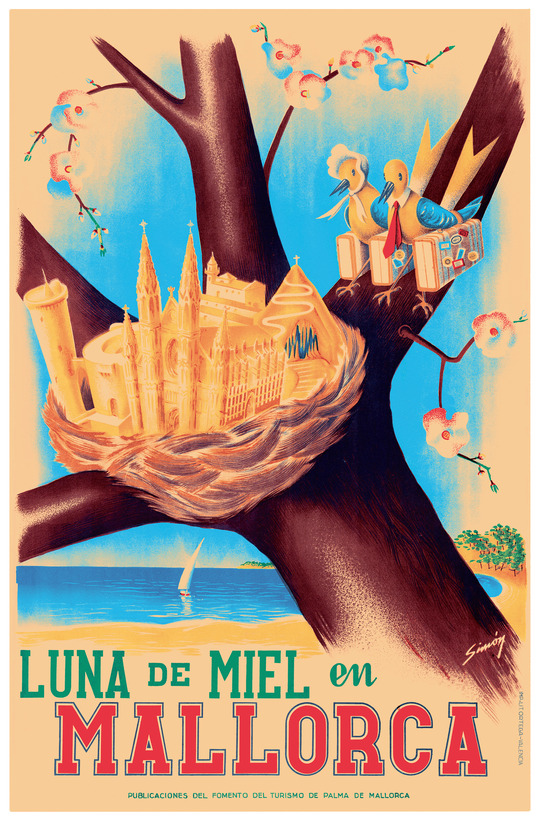 Cu