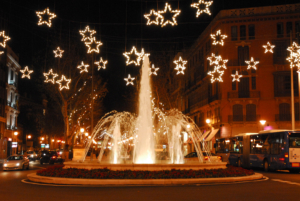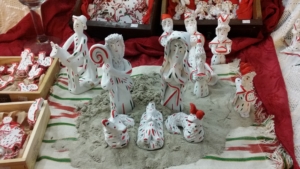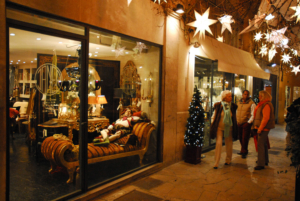 Christmas in Mallorca has first and foremost been a religious festival steeped in the island's culture and traditions which still thrives today and much of which is completely free to watch or participate in:
Nativity Cribs "Belen"
The custom of creating a nativity scene dates back to the 18th century in Spain and is an important tradition throughout the island.  In Palma the visitor can see some of the oldest and most ornate nativity scenes.  These include: Santa Catalina Market (up to January 17th, 08.00 – 15.00), The Misericordia Cultural Centre featuring the "Betlem Mallorquí" with exquisite detail (December 3rd– January 6th, 10.00-14.00 and 16.00-20.00.  The March Foundation Museum has an ornate crib scene of Italian origin "Belén Napolitano" with 2,000 hand crafted pieces dating back to the 18th century. In Palma's Town Hall the nativity scene reflects island life and all the figures are handmade.
In the Convent des Caputxines, a large "belen" will be on display throughout the Christmas period featuring 200 figures, some of which date back to the 17th century and many have been hand made by the nuns.  Open daily 11.00-14.00 and 17.30–20.30 until January 7th.
Outside of Palma you'll find the most elaborate "belénes" in parish churches including Banyalbufar, Deià and the Església Nova in Son Servera, which features a live "belen" with locals participating in costume.  Further information is available from local tourist offices or: www.infomallorca.net
Misa de Gallo
The traditional Christmas mass is held after the main Christmas evening meal on December 24th in churches throughout the island.  These include Palma Cathedral at 23.00 and Lluc Monastery at 22.00.
Christmas Turron
Traditionally eaten at Christmas, turrón is a traditional sweet made from a mixture of honey, eggs, sugar and toasted nuts. Its origins go back over 500 years ago to the time of the Moors. Today,  turron comes in all different varieties and flavours.  Some of the best home-made turrons can be bought from traditional delicatessens/pastry shops across the island and in Palma these include: Forn Fondo, C/Unión; Horno Santo Cristo, C/Pellaires; La Pajarita, C/Sant Nicholas and Turrones Vicens, C/Bosseria.
Christmas Markets
A large selection of Christmas goods, including everything you need to make your own nativity scene, will go on sale from early December in Palma's two main plazas: Plaza Major and Plaza España (2nd December – January 7th). Pueblo Español Christmas Market from December 4th-8th www.nuevopuebloespanol.com.  Puerto Portals, December 11th – January 6th; Puerto Adriano Christmas Street Market, December 12th – 20th; Santa Ponsa Christmas Market, November 28th – December 20th.   Villages celebrating their own Christmas markets include:  Sineu (19-20th December); Porreres, December 20th and San Llorenc, December 13th.
Snowy cover image of Alaró Castle courtesy of Balearic Helicopters https://balearic-helicopters.com/
Further press information/images: Dominique Carroll/Toni Gomez, Fomento del Turismo de Mallorca.  Tel: + 34 971 725 396  (Mobile: + 34 669 49 77 22) email: news@newsmallorca.com
Background:
The Fomento del Turismo (known as the Mallorca Tourist Board) was founded in 1905 and is the longest established tourist board in Spain and possibly in the world.  It was established with the objective of creating awareness of Mallorca as a destination and to study and implement how to promote the island to potential visitors and with over approximately13 million visitors to the island in 2016 it has certainly completed its' original objective. This institution located in the centre of Palma remains a private, independent and non-profit making entity that is supported by members from throughout the island's tourism sector. www.fomentmallorca.org