Following a record summer with *approximately 10 million visitors up until the end of August this year and a 6.2% increase in British visitors,  the cooler autumn months offer a chance to explore the island and try different foods and local produce.
Palma's Tapas Festival "Tapalma": 15th-19st November, 2017
This year's TaPalma gastronomic tour of restaurants and tapas bars around the Palma will take place over 5 days from Wednesday, November 15th through to Sunday, November 19st with over 50 establishments participating offering tapas for around 2 euros each.
Since the festival was started 13 years ago, restaurants have competed for the prize for best tapas/best cocktail and overall best tapas restaurant. Last year's winner for the best tapas was chef Oscar Fontan at the Ca Na Joana restaurant with his creative tapas of a scallop in aromatic tempura with Kaffir on a tomato/parmesan sponge with grilled octopus in kimpchee.
There are 9 tapas routes in total covering the following areas in and around Palma: Santa Catalina, Paseo Marítimo, Central Palma, Blanquerna, Génova, Portixol, Palma Beach, Mercado de San Juan, and Marratxí. www.tapalma.es

Ruta Martiana – every Tuesday from 19.30
The "Ruta Martiana" (a mini-version of TaPalma) takes place every Tuesday from 19.30 in the centre of Palma's Old Town including areas of Sa Gerreria where approximately 25 bars and restaurants participate offering a tapas and a small draft beer for around 2 euros each.   www.facebook.com/LaRutaMartiana-PalmadeMallorca
New – Palma's Gastro Market – Mercat 1930
Opened this summer on the ground floor of the emblematic Bahia Mediterraneo (originally opened as a hotel in 1910) on the city's Paseo Maritimo facing the sea and some of the largest privately owned yachts in the world.
The gastro market is open from 12.00 through to 24.00 every day and features 13 different food stations serving different styles of cuisine from oysters and seafood to croquettes, Thai/French fusion, burgers, sushi, grilled meats, fried Andalusian style tapas and tortillas.
In addition, there are 3 bars; a premium bar, a bar specialising in vermouths and one featuring beers from all over the world.
The market has a capacity for 200 people inside with a further 200 outside on the terrace. The décor concept is stylish industrial which blends in with the original Art Deco style of the building. More information: www.mercat1930.com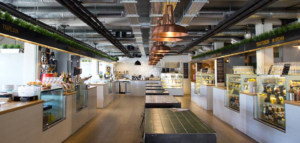 Country Fairs around Mallorca
All over Mallorca there are weekly markets which vary in size and produce sold depending on the size of the town/village. In addition, in autumn each village and town around Mallorca competes to present the best of their agricultural produce and artisan products. The majority of these events are held on Sundays throughout the October and November. Further information: www.mallorcamarketsandfestivals.com
——————–
*Source – AENA Aeropuerto de Palma de Mallorca
Further press information and images: Dominique Carroll or Toni Gomez, Fomento del Turismo de Mallorca. Tel: + 34 971 725396 email: news@newsmallorca.com
Background:
The Fomento del Turismo (known as the Mallorca Tourist Board) was founded in 1905 and is the longest established tourist board in Spain and possibly in the world. It was established with the objective of creating awareness of Mallorca as a destination and to study and implement how to promote the island to potential visitors and with over approximately 13 million visitors to the island in 2016 it has certainly completed its' original objective. This institution located in the centre of Palma remains a private, independent and non-profit making entity that is supported by members from throughout the island's tourism sector. www.fomentmallorca.org