The island remains a safe refuge for the stars to escape and relax
Since the 1950's Mallorca has been under the radar with many famous celebrities and film stars attracted to the island's beauty, peace, and security and its authentic Mediterranean atmosphere. Hollywood superstar, Ava Gardner sought refuge in Mallorca in 1956 escaping her disastrous marriage with singer, Frank Sinatra. Island resident, the celebrated author, Robert Graves, invited the actress to his home in Deià. On arrival, she caused a sensation with all the residents.

1) Ava Gardener is greeted by Robert Graves & his family at Mallorca's Son Bonet Airport. 2) Taking a break from filming "Deadfall" in 1965 are Michael Caine, Robert Graves and Adam Faith.
Pictures: the Graves Family: www.lacasaderobertgraves.org
An island hideaway for royal guests & Hollywood stars
Many famous names have been drawn to the Formentor peninsula at the northernmost tip of Mallorca, including Grace Kelly and Prince Rainier of Monaco who spent their honeymoon on their yacht in the Bay of Formentor in 1956. Over the years, the Hotel Formentor has welcomed such esteemed guests as Sir Winston Churchill and cinema stars including Charlie Chaplin, Elizabeth Taylor, Audrey Hepburn and Peter Ustinov who also owned a villa in La Mola, Port Andratx. 
The Beverly Hills of Mallorca
The exclusive residential area of Son Vida with the iconic Castillo Hotel Son Vida is located just outside of Palma and also known as the "Beverly Hills of Mallorca".  When the Castillo Hotel Son Vida opened in 1961 it shortly afterward received some eminent guests including Prince Rainier of Monaco (who officially inaugurated Golf Son Vida in 1964) and Grace Kelly (then Princess Grace of Monaco), Aristotle Onassis and Maria Callas. Over the years the hotel has hosted many famous stars including Anthony Quinn, Zsa Zsa Gabor, Brigitte Bardot, Julio Iglesias, Sting and Jennifer López.

Photos courtesy of the Hotel Castillo Son Vida www.marriott.com
Errol Flynn sails into Mallorca
In the early days of tourism in the 1950s, the traditional villages and the marinas along this stretch of coastline were already a popular destination for Hollywood stars such as the swashbuckling actor Errol Flynn, who spent his honeymoon in 1950 with his third wife, Patricia Wymore, aboard his yacht "Zaca".  The couple accidentally discovered the island when they were forced to sail into the north of Mallorca to escape a storm.  Flynn fell in love with Mallorca and eventually moored off the southwest coast and in Palma. He loved the fact that he could escape the madness of Hollywood and the stresses of the film industry, whilst ashore he also stayed in the Hotel Maricel and the Hotel Bon Sol.  When he returned to the island in 1955 he rented Villa Molí beside the sea in Illetes. He was notorious for his parties aboard his yacht where he invited other close friends including Orson Welles and Rita Hayworth.

Pictures: with kind permission of Jaime Canudas Martinez and Productes Mallorca: www.productesdemallorca.es
These charming photos were taken by a friend of local Mallorcan businessman Jaime Canudas Martinez (pictured far right in the group shot) in September 1955 when, via a business partner, he was invited to meet Flynn aboard "Zaca".   Even though Jaime is now in his 90's he still remembers that day; "I arrived in my suit and tie directly from work – I didn't have time to change.  "Zaca" was moored at Palma's  Real Club Nautico Yacht Club in the centre of Palma.  I was slightly nervous to meet one of Hollywood's most famous stars and I didn't speak much English, so I didn't say much but he was very friendly, relaxed, and charming.  It was obvious that he was enjoying his time here on the island where he could go about his daily life without the pressures of Hollywood. The yacht was a real beauty; a wooden classic, it was very special.  I have treasured these pictures all these years as a souvenir of that memorable day when I met one of Hollywood's great legends.
Summer holidays for Michael Douglas & Catherine Zeta-Jones in Mallorca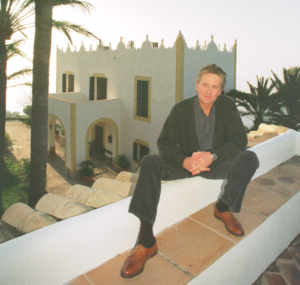 Mallorca remains a haven of peace and security for Hollywood stars such as Michael Douglas and Catherine Zeta-Jones who have spent their summer vacation on their estate in Valldemossa on the west coast of the island where they have hosted many top billing names including Tom Cruise, Nicole Kidman, Michelle Pfeiffer, and Jack Nicholson.
Michael Douglas in front of his Mallorcan home S'Estaca.
Courtesy of Diario de Mallorca www.diariodemallorca.es
Mallorca's great diversity is a major attraction for film & television productions
The island's mild climate with approximately 300 days of sunshine per year and great diversity of land and seascapes dominated by the Sierra Tramuntana Mountain range makes it a favourite location for film and TV series such as the blockbuster, "Cloud Atlas", based on the David Mitchell novel, which was released in 2013 starring Tom Hanks and Halle Berry who both filmed on the island extensively the previous summer.
In 2016, the award-winning "Night Manager" BBC TV series, based on the John le Carré novel, starred Hugh Laurie, Olivia Colman, Tom Hiddleston, and Tom Hollander and highlighted the island's diversity and beauty.
In 2019 the BBC "Mallorca Files" TV series was first broadcasted with preparations underway for a second season.  A major part of this summer's Netflix release of the mini-series, "White Lines" was also filmed in Mallorca.
This map highlights where certain movies were filmed on the island: